Past Exhibitions during Academic Years:
---
Academic Year 2015-16
---
Annual Photographer
of the Year and
Student Exhibition
Aug. 17 to Sept. 10, 2015
Reception: Wednesday, Aug. 26, 12-2 p.m.
Featured works by Annabelle Mullennix, Photographer of the Year
This year's Photographer of the Year, Annabelle Mullennix, chosen by the Photography Club from submitted portfolios, shows works that focus on nature and the ability of nature to present both mortality and the infinity of time.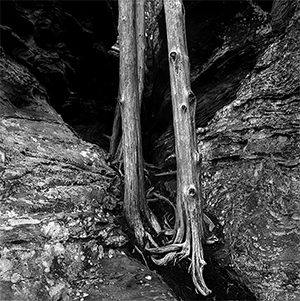 Garden of the Gods
---
Public/Private
Studio works of renowned Hispanic mural artists from Pilsen
Sept. 21 to Oct. 22, 2015
Reception: Thursday, Sept. 24, 4:30-7 p.m.
Visiting Lecturer Jeff Huebner: Thursday, Sept. 24,
2 p.m.
Featured works by Hector Duarte, José Guerrero, and José L. Piña Morales
The three artists presented in the exhibition Public/ Private, Hector Duarte, José Guerrero, José L. Piña Morales, all are widely known in Chicago for their community mural work, found primarily in Pilsen. Their monumental and colorful murals give voice to the Hispanic community there on issues of immigration, Hispanic identity, social change and cultural history. The murals celebrate the community, its traditions and heroes, telling stories and providing a visual richness of the heritage and history of the community. Artist José Guerrero has provided tours of the 30-40 neighborhood murals for decades, which feature not only the work of the three artists exhibited here, but of other Hispanic mural artists. Artist José L. Piña Morales runs an art school in the neighborhood, and explains that murals have always been a strong part of the Chicano tradition. Pilsen is well known for its community murals, which began back in 1969, and were the first community-based murals created in the US. These murals served the local community by allowing local people, living only a few miles from downtown Chicago, to involve themselves in the creation of large scale public art. Some murals were painted with non-professional involvement, and the community was always considered in the process of their creation. The murals create a welcoming public image of the area with their colorful imagery and mood of celebration.

Hector Duarte, Lucio Cabaňas, acrylic on canvas


Many artists who do large public work still feel the need to create individual, more personal works within their studios. These three artists have maintained a studio practice while doing large scale mural projects, and express their more intimate thoughts in their studio works. The studio works provide artists time to explore imagery that may remain more mysterious or obscure to the larger public, and to use symbolism that may not be present in their community murals. Studio time allows artists to develop a body of work that doesn't have to respond to particular community or client needs, but instead to their own individual needs.
Hector Duarte still works with monumental scale in his large painted acrylic canvases, and combines vigorous brushwork with symbolic imagery to explore the themes of identity, migration, freedom and culture. He has used the butterfly as a symbol of migration and immigration, taken from the monarch butterflies who return to his hometown of Michoacán yearly to survive the cold winters in a welcoming environment, just as Mexican immigrants have come to the US to work and survive.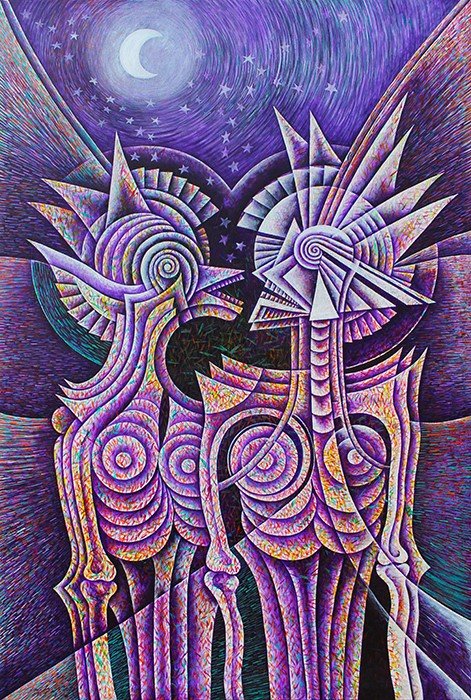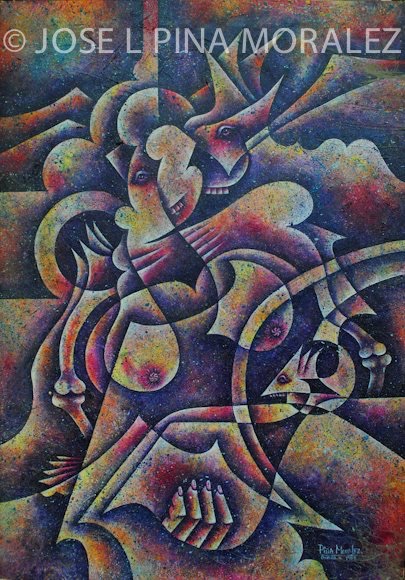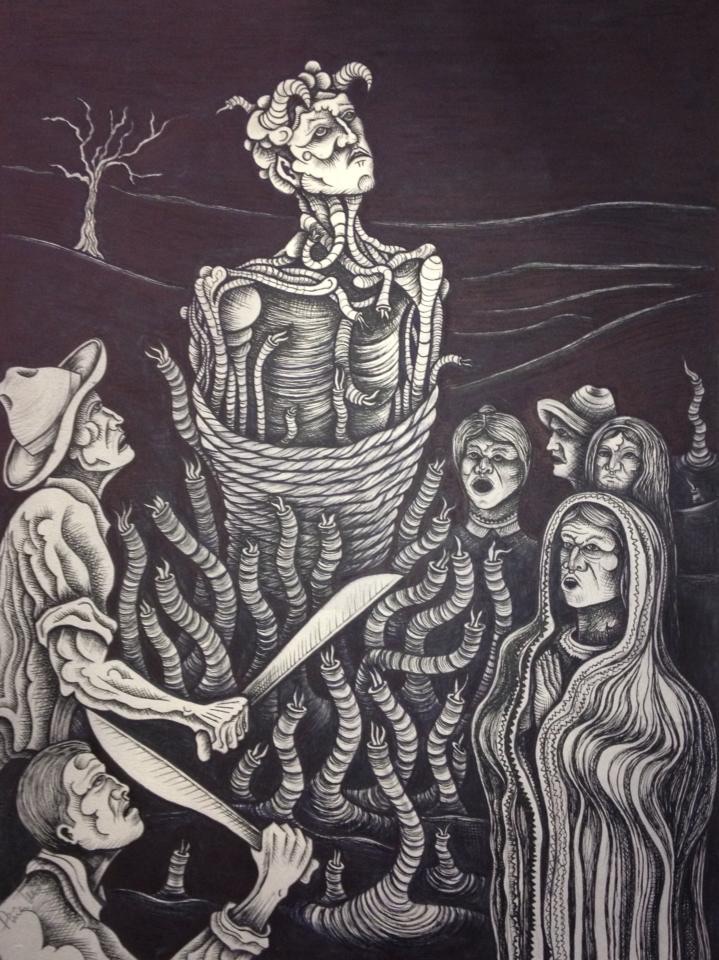 ---
Action/Reaction
Works by the collective Dirty Canteen
Veterans from across the U.S. who desire, through their art, to bridge the gap between the military and the civilian.
Nov. 2 to Dec. 3, 2015
Reception: Thursday, Nov. 12, 4:30-7 p.m.
Featured works by Jesse Albrecht, Daniel Donovan, Amber Hoy, Ash Kyrie, Giuseppe Pellicano, Erica Stone, Ehren Tool
"In the military we were issued brand new canteens, but after many training exercises and deployments the canteens became worn, abused and dirty. The Dirty Canteen is a metaphor for our involvements and experiences while in the military. We were soldiers and
humanitarians and though we can no longer do so in uniform, we choose to continue this service to others by using the arts. We served in conflicts from Afghanistan, the Gulf War, Kosovo, and Iraq. There are eight members of the Dirty Canteen artist collective, all of which
serve(d) honorably in the military and aim to raise awareness about issues veterans face while
returning home from conflict.
Our stories and work translate into conversations that try to bridge the gap between military and civilian cultures. This dialog hopes to bring understanding of how war and
trauma not only affect members of the military, but our society as a whole. Our mission is not to promote a particular belief but to pose questions about the many difficult and genuine concerns the American community possesses about current and past military engagements.
We wish to share our stories, artwork and message of peace and appreciate the opportunities to do so."
Dirty Canteen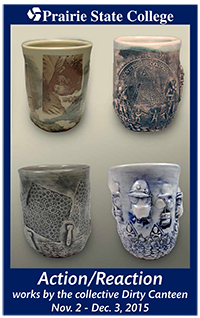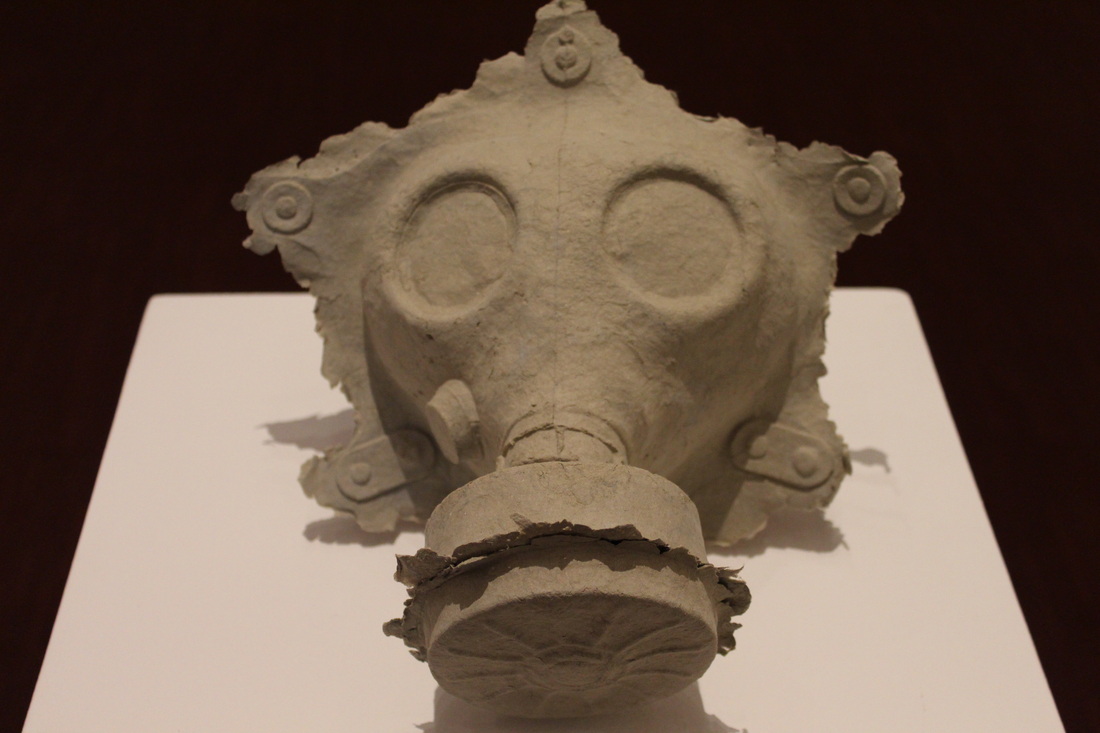 Dang Masked Memories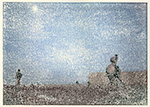 Kyrienight scene
---
Gigs Graphics
Jan. 4 to Jan. 28, 2016
Reception: Thursday, Jan. 21, 4:30-7 p.m.
Poster Market: Thursday, Jan. 21, 1-4 p.m.
Featured works by Dan Black, Ryan Duggan, Dan Grzeca, Dan Macadam, Jay Ryan, Justin Santora,
Zissou Tasseff-Elenkoff, Joseph Taylor, Jason Teegarden-Downs
We are fortunate to be able to present the work of many outstanding Chicago area graphic designers in this exhibition, Gigs Graphics!, featuring works that are primarily posters for various music gigs throughout the Chicagoland area. The exhibition includes posters for both independent music, more mainstream music and even opera, created by various designers who are among the most renowned for their gigs posters. Indeed, Chicago is called a "mecca" for screen printed posters, as it has a large concentration of some the most talented artists in this field. These artists have been recognized throughout the world for their work!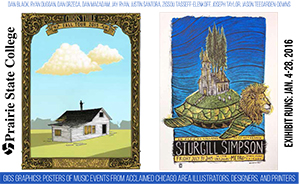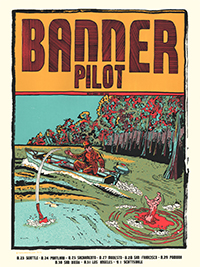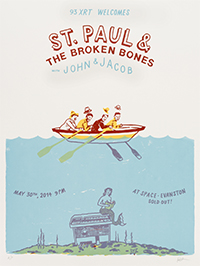 ---
Memory
Feb. 8 to March 9, 2016
Reception: Thursday, Feb. 11, 4:30-7 p.m.
Featured works by Ellen Holztblatt, Judith Roth, John P. Smolko, Joseph Taylor, and Julian Williams
Portraiture as an art form is very ancient, and first appeared in the West in Greek and Egyptian civilizations as a public art form to depict the gods and kings. In ancient Greek art, portraiture was often depicted through large public sculpture, meant to characterize whoever was portrayed with dignity and importance. Throughout art history, until the 19th century, portraiture was an important way to glorify whoever was portrayed, and usually had a strongly formal atmosphere, at times showing sitters (this word is used to describe the person portrayed because in many circumstances, a model would "sit" long enough to be drawn and painted) with various accouterments that told the viewer who the sitter was and his or her elevated position in society.
In European art, until the 19th century, portraits were usually commissioned by wealthy patrons, so that while a likeness of the sitter was important, even more important was to show the sitter at his or her best. With the later 19th century, suddenly artists began to express themselves separately from patronage, and had the freedom to go beyond the glorification of the sitter. Also, a wider variety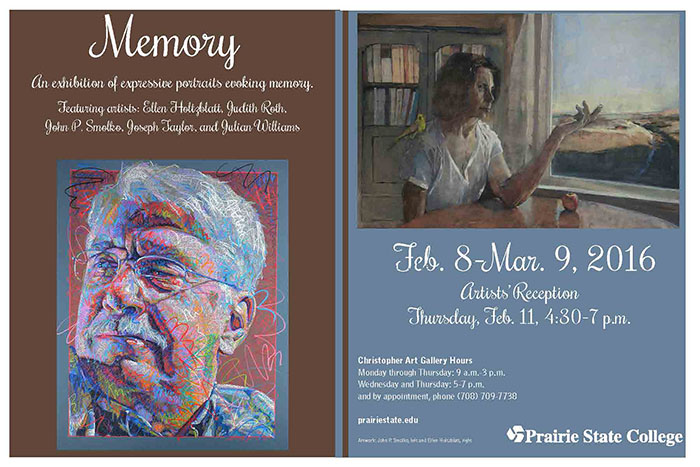 of subjects for paintings was acceptable, so that if an artist chose to make a portrait, it was out of some intention beyond only glorification and more related to a desire to express something about a particular sitter.
The artists in Memory have created portraits of various individuals in which the likeness of the sitter is less important than what the artist chooses to reflect about his or her sitter in terms of mood, personality and the psychology of the sitter. The viewer is drawn to each of these artists' works because of the expressiveness of the portraiture. Each artist chooses to make the work expressive with different tools and means, but all of the works suggest memory. These artists seem to honor those remembered by reflecting their personalities and inner beings, rather than just their physical resemblance. It is this sense of memory of who is depicted that makes the works powerful.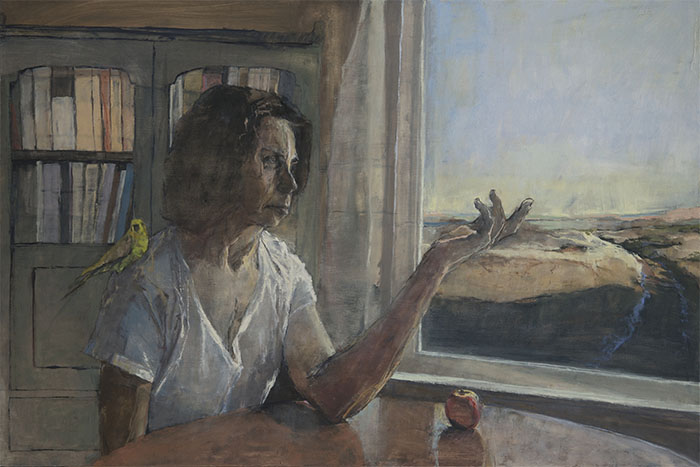 I have let you see it by Holztblatt
---

Annual High School Art Exhibit, 2016
Mar. 17 to Apr. 14, 2016
Curated by PSC Art Faculty, Rebecca L. Slagle
Award Ceremony and Reception: Thursday, Mar. 17, 5-7 p.m.
The faculty in the department of Fine and Applied Arts extends their congratulations to the 39 artists selected to exhibit their work in this year's annual competition for high school students.
Students who attend high schools within the Prairie State College district were invited to submit entries in various media, including drawing, painting, photography, graphic design, computer art, mixed media, best electronic media, and sculpture. There were 117 entries received, and the works selected to be part of this annual juried exhibit represent the collective talents of students from Beecher, Bloom Trail, Homewood-Flossmoor, and Marian Catholic high schools.
From these works, one was selected as Best in Show, five were selected as "Best of Category," in drawing, painting, photography, graphic design, and sculpture and three other works received special acknowledgment and were presented with "Merit" awards. Best of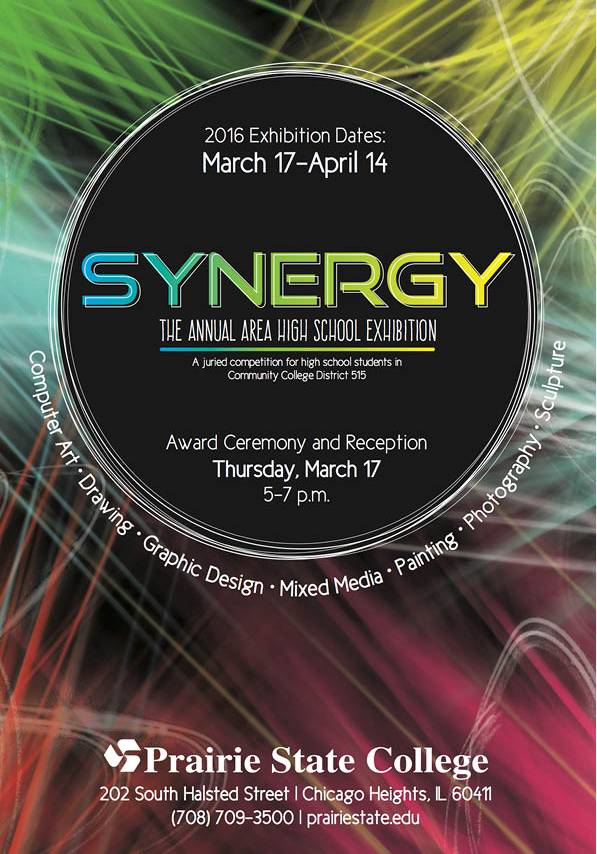 Category award winners receive a free class at Prairie State College. We applaud those who received these special honors, and all students whose work is part of this exhibition. These students represent an outstanding example of the talent being developed in the high schools in this district, and we are proud to showcase these artistic endeavors.
---
Graduate Students Exhibition 2016
May 2 - 25, 2016
Curated by PSC Art Faculty, Paul Rinaldi
Reception: Wednesday, May 4, 11 a.m. - 1 p.m.
2016 Graduate Exhibition Catalog
Featured works by Janice Black, Nicole Brassfield,
Sarah Chapman, Maria Forbes, Monica Gideon,
Anthony Manson, Kenya Moffett-Garner,
Annabelle Mullennix, Akosua Nartey, Alexandria Reed, Luke Rhodes, Amy Roesch, Alex Rosales, and
Carl Sago
Works are presented from Professor Rinaldi's
portfolio class of PSC graduating students. Each
student is asked to choose his or her best work for
exhibition. Students design both the postcard and
exhibition poster.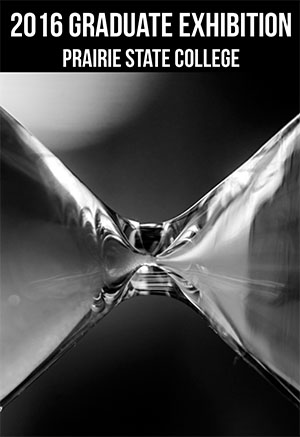 Photo by Akosua Nartey
---
Aspects of Realism
June 6 to July 14, 2016
Reception: Thursday, July 14, 4:30-7 p.m.
Featured works by Winifred Godfrey, Roland Kulla, Armin Mersmann, Jacqueline Moses, and Victoria Fuller
Realism in art refers to the depiction of realistic and recognizable imagery, portrayed with accuracy, and is often reliant on strong technical mastery. No matter what subject is used, colors, shapes and forms are not particularly exaggerated, but instead feel naturalistic, as if captured with a camera. The idea behind the exhibition Aspects of Realism is to showcase artists who use a realistic style of portraying their images, but each has a different purpose, focus and technique of creating.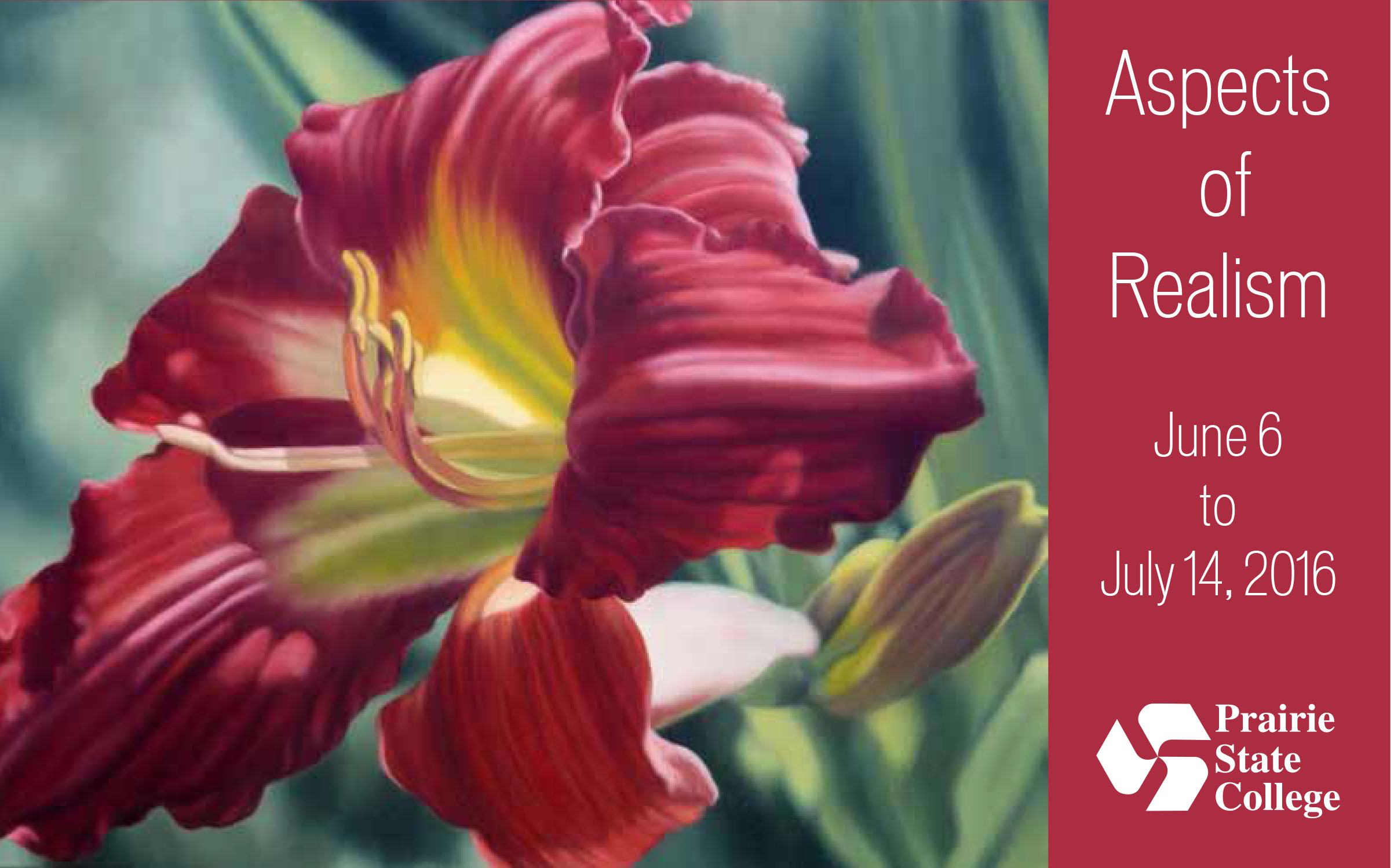 Card image design by Winifred Godfrey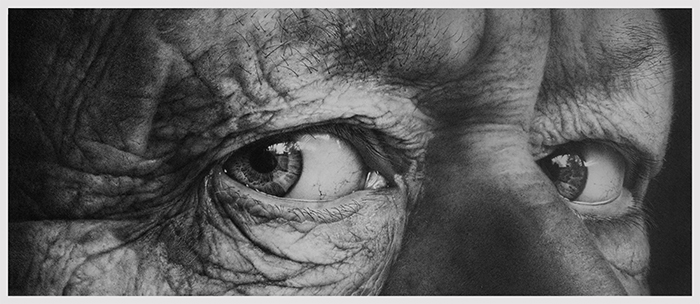 Through the Iris III by Mersmann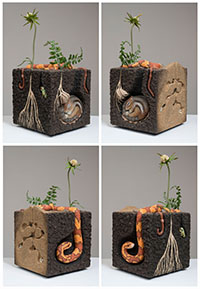 Deep Down Composite by Fuller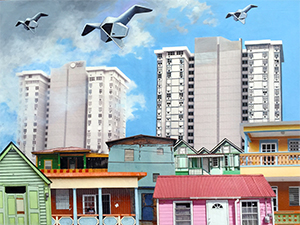 Interference by Moses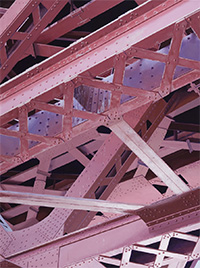 QueensViaduct by Kulla
---