Past Exhibitions during Academic Years:
---
Academic Year 2016-17
---
Annual Photographer
of the Year and
Student Exhibition
Aug. 22 to Sept. 15, 2016
Reception: Wednesday, Aug. 31, 12-2 p.m.
Featured works by Kellie Lachata, Photographer of the Year
PSC's annual fall student exhibition, also featuring Photographer of the Year Kellie Lachata. The photographer of the Year is chosen each year in a portfolio competition.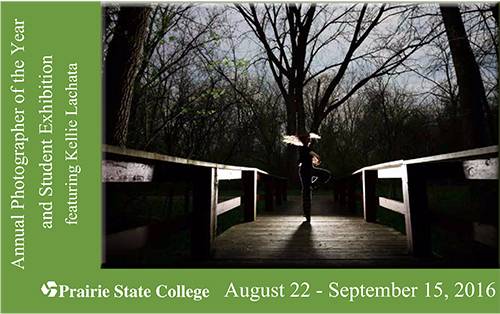 Postcard featuring Kellie Lachata, Flash Pointe
---
Sister City Exhibition, Odwindifuor Expressions: works from Ghana, West Africa
Sept. 26 to Oct. 27, 2016
Reception: Thursday, Sept. 29, 4:30-7 p.m.
The exhibition was made possible by the following, for whom we extend special thanks:

Asuogyaman District Assembly Sister Cities Organization
Rev. Samuel Adjei-Debrah, Chairman
William Asare-Gyapong, Secretary

Aburi Industrial Art Centre
Nana Krobea Asante, President
Opoku Dijan Daniel, Vice President
Chicago Heights Sister City-African Diaspora Initiative, Inc. (CHSC-ADI, Inc.)
Kevin Perkins, Chairman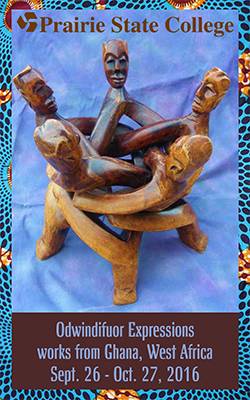 Photo: Unity Carving
This is an exhibition of works in various media made by artists and artisans from Aburi, in Ghana, West Africa, and is arranged through the Chicago Heights Sister Cities Program
---
Organic
Works by Karen Ami, Renee Robbins, Alison Svoboda, and Ana Zanic
Nov. 7 to Dec. 8, 2016
Reception: Thursday, Nov. 10, 4:30-7 p.m.
The title of our current exhibition, Organic, featuring works by Karen Ami, Renee Robbins, Allison Svodoba and Ana Zanic, refers to specific vocabulary used in the field of fine arts. While in contemporary times, organic has come to mean "natural" or not altered by human revision, (such as "organic farming,") in art vocabulary, the word organic is an adjective referring to forms or shapes that are curvilinear, unpredictable, irregular, and seeming to refer to natural sources. It is a term that is in opposition to shapes and forms that are geometric, with straight or regular lines, angles and edges. Nevertheless, the two uses of the term "organic" are really very close, because they both show nature as a source for inspiration.
While the artists whose work is shown here create their forms and shapes from their imagination, they share an interest in natural sources. As viewers, we are reminded of natural references such as water, flowers, the human body, fauna, underwater creatures; their images seem to been formed from natural causes, whether growth, transformation or flow of forces. Each artist uses her imagination to create forms that do not directly illustrate, but more subtly suggest naturally derived shapes and forms such as those found in the living world. Each artist has a passion for curves, elongations, sinuous lines, and fluidity...
For more information see Gallery Guide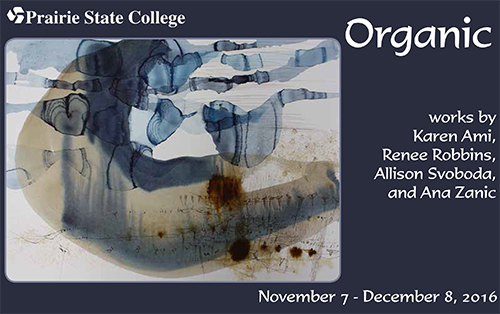 Postcard featuring Origin by Ana Zanic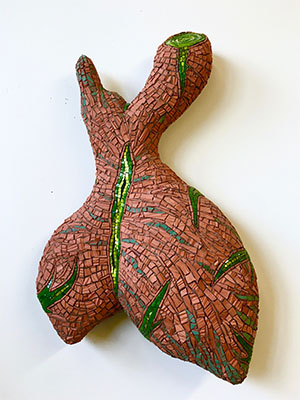 Ami Cicatrix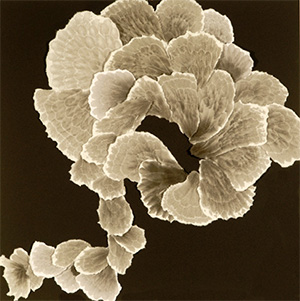 Furling04
---
Small But Mighty
A juried show of work by 34 artists in various media
Jan. 3 to Jan. 26, 2017
Reception: Thursday, Jan. 12, 4:30-7 p.m.
Juried by Aron Packer, this show featured works no larger than 24" x 24" by artists throughout the United States.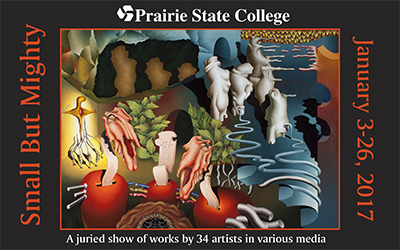 Picture: The Habitats of Simulcra by Russ Revock
---
Creative PULSE
The Annual Area High School Exhibition
Feb. 6 - 23, 2017
Reception: Thursday, Feb. 9, 50-7 p.m.
Awards Ceremony: 6 p.m.
This yearly exhibit features the work of high school students from District 515 in a wide range of media, including sculpture, photography, drawing, and painting.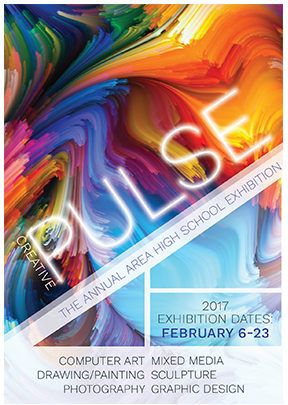 ---
2017 Skyway Juried Art Exhibition
Mar. 6 to Apr. 8, 2017
Reception: Saturday, Apr. 8, 11 a.m.-1 p.m.
Awards presentation:12 p.m.
Each year, students from various community colleges submit for this juried competition, and works chosen are exhibited at one of the colleges. This year, it is hosted at PSC.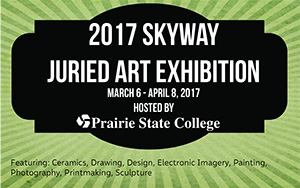 ---
Graduate Students Exhibition 2017
May 1 - 18, 2017
Curated by PSC Art Faculty, Paul Rinaldi
Reception: Wednesday, May34, 11 a.m. - 1 p.m.
2017 Graduate Exhibition Catalog
Featured works by Lawrence Davis III, Diquan Gilbert, Sabrina Howard, Brian Mazique, William Moser, Kennedy Passmore- Whittler, Rebecca Silic,
Robert Walker

Works are presented from Professor Rinaldi's
portfolio class of PSC graduating students. Each
student is asked to choose his or her best work for
exhibition. Students design both the postcard and
exhibition poster.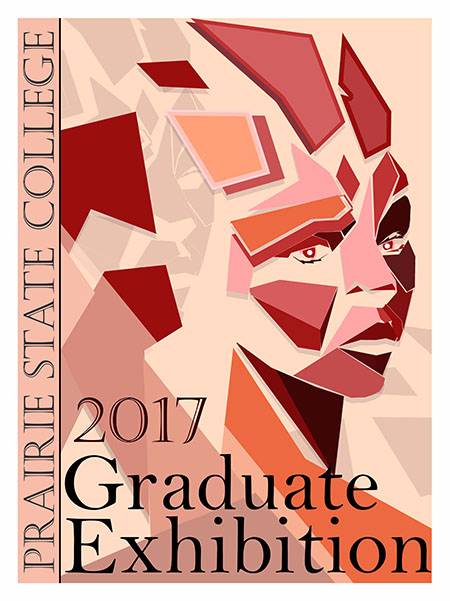 Card image design: Robert Walker
---
InterAction
June 5 to July 13, 2017
Reception: Wednesday, June 7, 4:30-7 p.m.
Featured works by artists of Chicago Sculpture International
The exhibition, InterAction, highlights work from the Chicago Sculpture International membership, chosen from those works submitted for this exhibition. As a curator, I must admit having a difficult time with choosing for this exhibition because there was so much fine work to consider. There were a number of works that could not be included due to our spatial constraints, and had we a larger space, the show would have included even more artists! I carefully chose a range of works in terms of style, media, and subject matter. In addition, I also considered a balance of works for the wall, for pedestals and as floor installations.

My main criteria in choosing works were to find compelling images, that encouraged audience "interaction" on an emotional, aesthetic, and intellectual basis. These are works that draw us in as viewers, and as all good sculpture does, encourages us to consider the works from multiple vantage points in order to understand the relationship of the art to its space. We as viewers are not passive onlookers but are asked to engage with these works. They beckon us to come closer, to walk around them when they are free-standing, and to see them as whole and in details. Our response is based on the draw to interact with each piece....
For more information see Gallery Guide ....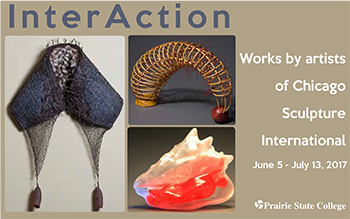 Work left is by Karen Gubitz, "onepointsixoneight", top right is by Donna Hapac, "Nose Down" and bottom right is by Jozef Sumichrast, "Erotic Shell 2".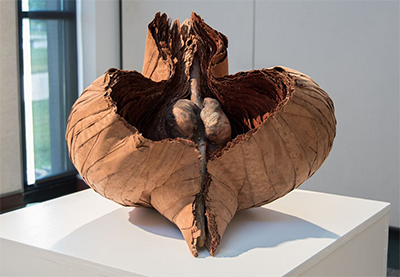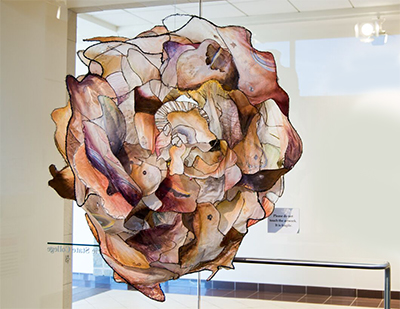 ---