Past Exhibitions during Academic Years:
---
Academic Year 2017-18
---
Annual Photographer
of the Year and
Student Exhibition
Aug. 22 to Sept. 14, 2017
Reception: Wednesday, Aug. 23, 11 a.m.- 1 p.m.
Featured works by Jessica Heing, Photographer of the Year
PSC's annual fall student exhibition, also featuring Photographer of the Year Jessica Heing. The photographer of the Year is chosen each year in a portfolio competition.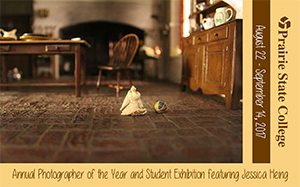 Postcard featuring Jessica Heing, Child's Play
---
La Pasión del Artista: Featuring works
by artists Paul Sierra, Oscar Martinez, and Carlos Barberena
Sept. 25 to Oct. 26, 2017


Talk by visiting artist: Oscar Martinez
Wednesday, Oct. 4, 2:30-3:30 p.m.
Reception: Wednesday, Oct. 4, 4:30-7 p.m.
Contemporary art embraces a wide range of styles, intentions, subject matter and appearances; this is an era in the art world where "anything" can be art, and there are few limits or boundaries. Much of the work that is currently shown in major museums and galleries is conceptual, meaning that the content and idea often are at the top of the hierarchy, and the visual aspects take on less importance. Information has become a major focus of art, and conveying the information can take on the form of media, video, text and visual content. At times, this approach to art can feel sterile, intellectually challenging, obscure or provide sensory overload. This means that an exhibit of the work of artists that conveys true passion especially enriches lives with emotion and sensory pleasure.

In celebration of Hispanic Heritage Month, the Christopher Art Gallery presents the work of three Hispanic artists, Carlos Barberena, Oscar Martinez and Paul Sierra. These three artists all work with extremely expressive visual means to convey their ideas, whether it be through exaggerated color, strongly textural brush strokes, large scale or attention to detail. The works exhibited here draw us in to respond, encouraging our active reaction to the work, and discouraging a neutral stance. Whirling forms, intense color and graphic strength insist that we respond with emotion. These are not works that appeal only to our intellect but instead illicit our raw response from the gut.

For more information see Gallery Guide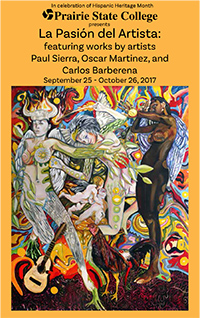 Postcard featuring Trinity Resonance,
Oil on Canvas, by Oscar Martinez
This exhibition features works that exude passion in their emotional content, color or intricate detail. Filled with raw emotion, this exhibition coincides with Hispanic Heritage Month, celebrated at PSC.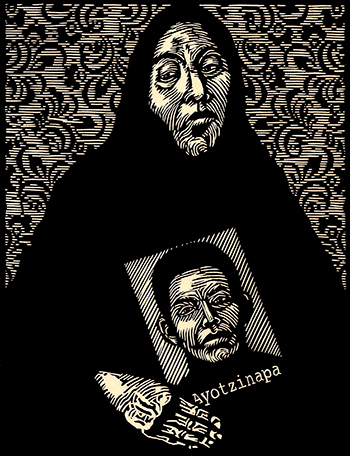 Madre de Ayotzinapa by Carlos Barberena
---
Intricacies
Works by Emily Hermant, Anna Louise Pardee Lindquist, Carrie Ann Schumacher, and Richard Shipps
Nov. 6 to Dec. 7, 2017
Reception: Thursday, Nov. 16, 12-2:30 p.m.
This exhibition of four artists, Emily Hermant, Anna Louise Pardee Lindquist, Carrie Ann Schumacher and Richard Shipps, features works that are complicated. The title "Intricacies" refers to the fact that these works have great complexity in their appearance, in their process, and in the relationship of artist to his or her material used in the creation of each body of work. The art here has many layers and details that force our perception and understanding of the works to be made slowly, from a larger view of the whole to the close view of the elaborate intricacies presented. These artists share the process of making work that is a whole from many precise tiny parts, and each artist here responds to their specific materials to create questions that each pursue relentlessly.
As an inter-disciplinary artist, Emily Hermant works with many different materials in her work, building a large whole from her time-consuming process of making marks, whether with pins, string, wood or painted paper. Her work explores the relationship of the materials to the space involved, whether it be a wall, the floor, or the room itself. At times, she is helped by a team that creates the work over many hours. She is interested primarily in the process of labor, and in how that impacts the making of the work, the space inhabited and the social implications of work. For this artist, the process itself dictates how the work appears, as the making of each mark responds to the previous marks made. The piece is built, step by step, rather than the planning of a pre-conceived whole. Artists like Hermant who respond so greatly to process enjoy the questions, not answers, derived from the making of the work, and want us to respond with questions of our own....
For more information see Gallery Guide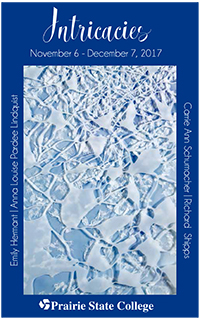 Postcard front: Anna Louise Pardee Lindquist,
Beings of Light: Release (close up), papers and acrylic ink on Dura-lar, photography by Amanda Carmer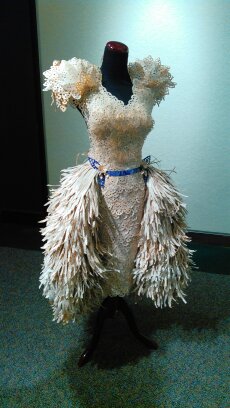 Paper Dress by Carrie Ann Schumacher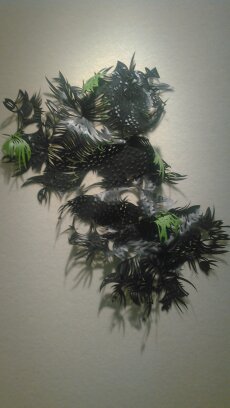 Paper Creation
---
Medley
Faculty Art Exhibition
Featured works by David Gremp, George Kassal, Gail Otterson, Paul Rinaldi, Beth Shadur, Lou Shields, Rebecca Slagle, and Valerie Taglieri
Jan. 3 to Feb. 1, 2018
Reception: Tuesday, Jan. 23, 4:30-7 p.m.
This features an exhibition of works in varied media by both full-time and adjunct faculty in the liberal arts department at PSC.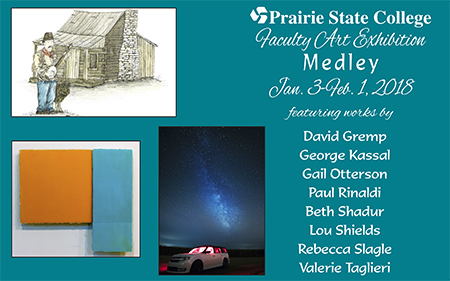 Front: top: Lou Shields, Lee and Mr. Watson;
Bottom left: Paul Rinaldi, Trancept, crylic;
Bottom right: Rebecca Slagle, Hot and Heavy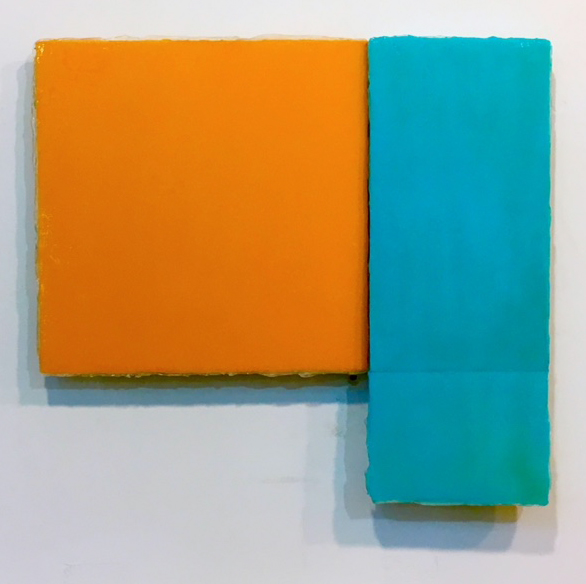 Transcept
by Paul Rinaldi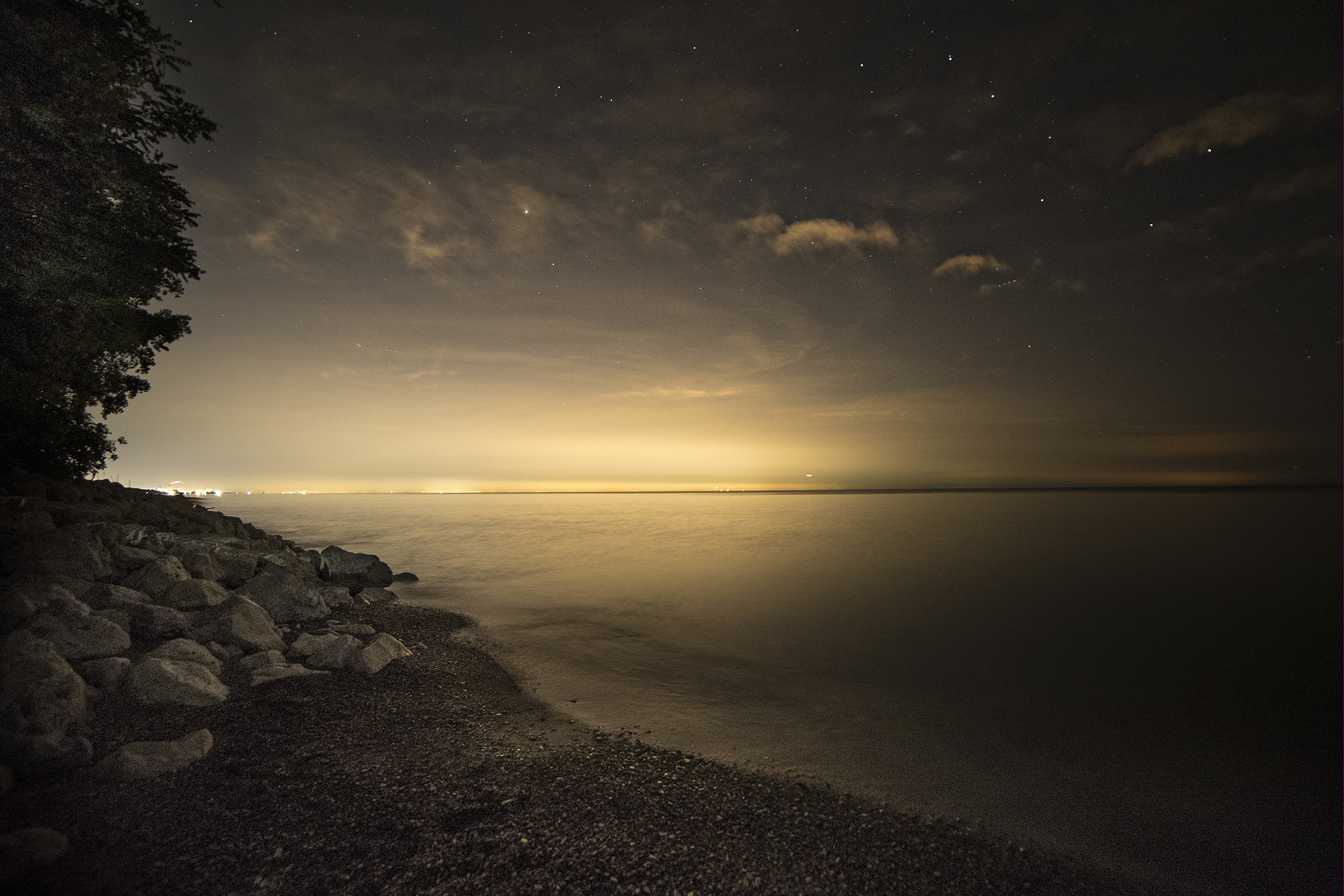 Dippity Dip by Rebecca Slagle
---
Altered
works by Kate Ingold, Katsy Johnson, Javier Chavira, and Rose
Camastro-Pritchett
Jan. 2 - Feb. 1, 2017
Reception: Thursday, Jan. 23, 12-2:30 p.m.
Many contemporary artists use previously created images in the development of their work, whether as resource material, visual guidance or by actually attaching an image into their art work. Today, with so many technological advances, it is easier than ever to transfer images onto the surface of a work of art. Artists can use images from online sources, art history, newspapers or other sources with ease and at times, don't realize that images can be intellectual property that is copyrighted and protected from use by another creator. There can be a fine line between copyright infringement and fair use, especially with the growth of the internet. In a world filled with so many visual images, there is a plethora of sources for new creativity....
For more information see the Gallery Guide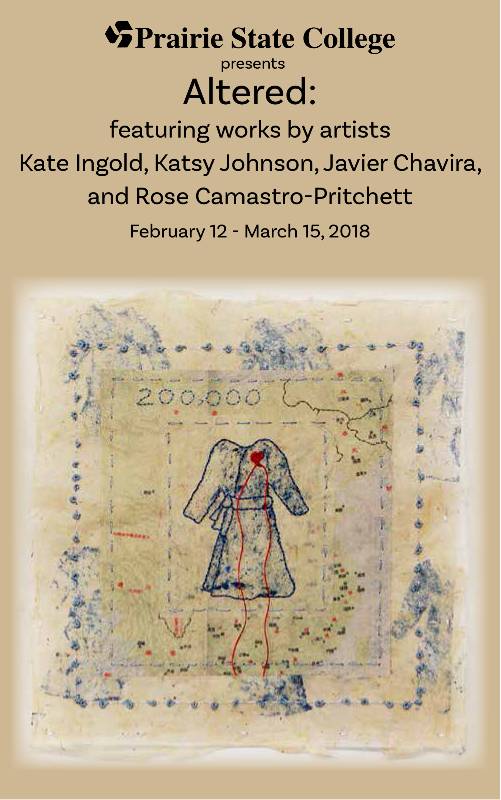 ---
Reflections
A juried area competition by High School students
Mar. 22 to Apr. 18, 2017
Reception: Thursday, Mar. 22, 5 -7 p.m.
Awards presentation: 6 p.m.
This yearly exhibit features the work of high school students from District 515 in a wide range of media, including sculpture, photography, drawing, and painting.
For more information see the program booklet.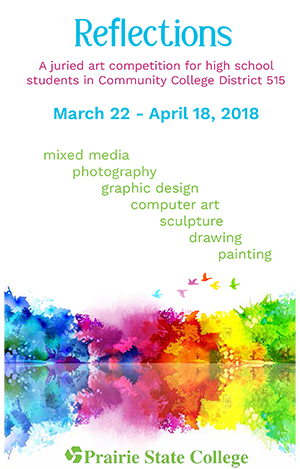 ---
Expressions
Student Showcase Exhibition 2018
Apr. 30 - May 17, 2018
Curated by PSC Art Faculty, Paul Rinaldi
Reception: Wednesday, May 2, 12 - 2:30 p.m.

Works in all media, highlighting the best of Prairie State College student art.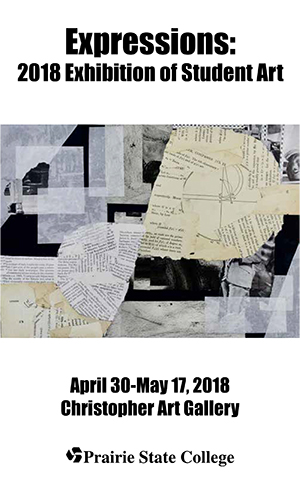 ---
Studio Conversations
June 11 to July 19, 2018
Reception: Thurssday, June 14, 12-2:30 p.m.
Featuring work by Mary Bookwalter, Janice Meister, and Carol Weber
In the artists' words, "Studio Conversations is an exhibit of mixed media works by Mary Bookwalter, Janice Meister, and Carol Weber. Bookwalter, Meister and Weber are artists and friends who have continually and collectively discussed and critiqued their artwork. Knowing that artists work in the vacuum of their own studios, they found that sharing input to the actual art-making process is an invaluable part of that usually solitary venture. They also saw that their processes of mixed media collage, printmaking and assemblage were common ground for an exhibition. Thus was born a collaborative show around the interaction they have with each other as artists, and the sharing of thoughts, ideas, and methods pertaining to their creative ventures.
The term collaboration often conjures up the idea of artists working in combination on the same piece. Bookwalter, Meister, and Weber wanted to see if they could "collaborate" while all still working on their own individual works of art. Ongoing discussions allowed each artist to look objectively at the scale, style and content of their own works and to be able to visualize them as possible collaborative pieces. The interventions that ensued gave way to the "grid" project where each artist began with an agreed upon common background image. These small works are installed in grid arrangements in the gallery environment. The exhibit "Studio Conversations" features collaborative work and individual work by all three artists."
For more information see Gallery Guide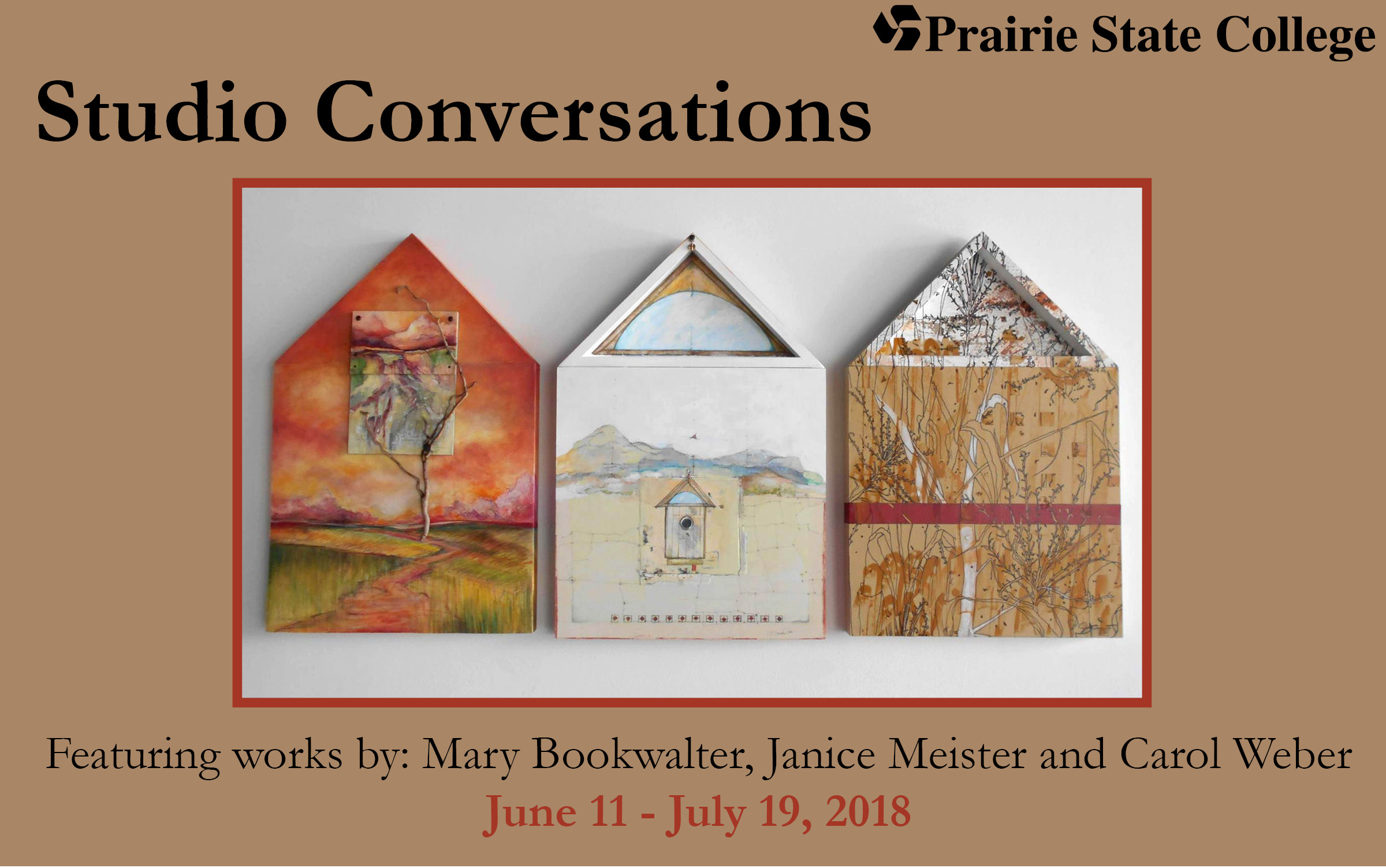 Janice Meister, Three Houses, photography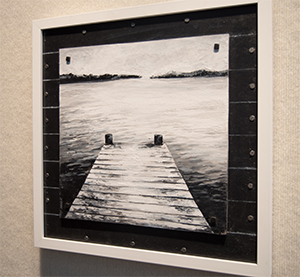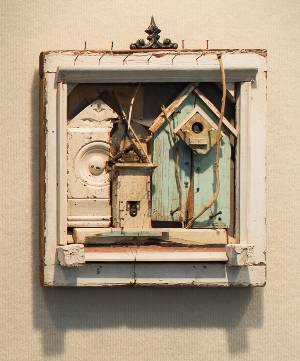 ---