Past Exhibitions during Academic Years:
---
Academic Year 2018-19
---
Annual Photographer
of the Year and
Student Exhibition
Aug. 21 to Sept. 20, 2018
Reception: Wednesday, Aug. 29, 11 a.m. - 1 p.m.
Featured works by Kacey Culbreth, Photographer of the Year
PSC's annual fall student exhibition, also featuring Photographer of the Year Kacey Culbreth. The photographer of the Year is chosen each year in a portfolio competition.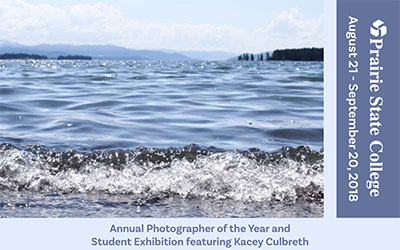 Postcard featuring Kacey Culbreth, Waves, digital photograph
---
Materiality: works by Ragnhildur Steffánsdóttir, Nnenna Okore, Marjorie Woodruff, Mille Guldbeck, Margi Weir and Ann Rosen
Oct. 1- 25, 2018


Talk by visiting artist: Nnenna Okore
Wednesday, Oct. 3, 10:30 - 11:30 a.m.
Reception: Wednesday, Oct. 3, 11:30 a.m. - 2 p.m.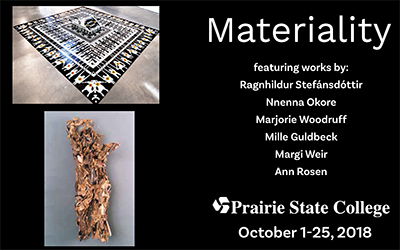 Postcard featuring Nnenna Okore, Breathe, Courtesy of
Jenkins Johnson Gallery / Marjoie Woodruff, Ghost Trees
The exhibition Materiality features artists Mille Guldbeck, Nnenna Okore, Ann Rosen, Ragnhildur Steffánsdóttir, Margi Weir and Marjorie Woodruff, all of whom are inspired by the unusual materials they use to create their works of art. The word "materiality" refers to "the quality of being composed of matter," but also can be defined as "being of great relevance or significance." The works exhibited here are represented by both definitions; these artists define their creative practice through the materials they choose for their art to make works that are both significant and socially relevant. Each of these artists find meaning in the materials and media used for their works, and the materials used become important to the context and understanding of the work. In addition, the show features a wide variety of media from vinyl forms to the use of grain sacks, or even recycled materials.

For more information see Gallery Guide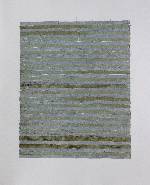 Hafnarfjörõur I by Guldbeck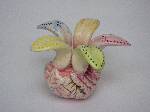 Five Tastes by Steffansdottir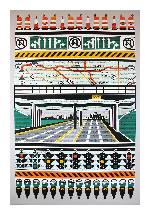 Detour Detroit by Weir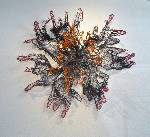 Breathe 2017 by Okore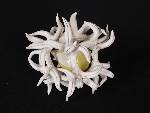 AntiGMO-1 by Woodruff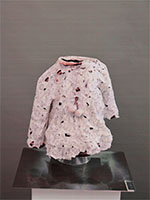 Xray New by Rosen
---
Services
Works by US veterans borrowed from both the Pritzker Military Museum and the National Veterans Art Museum

Nov. 5 to Dec. 6, 2018
Reception: Friday, Nov. 9, 12 - 2 p.m.
This exhibition of works by veterans from various wars, generously on loan from the Pritzker Military Museum and the National Veterans' Art Museum in Chicago, features art work in varied media. The exhibition, Service, allows us to honor our veterans and their creative expressions made either during their service while in action or upon reflection of their service once back home. Such art works allow us to understand better the profound experience of military service during conflict and war, and its impact upon veterans once they return from service.
The photographs from the Pritzker Military Museum were all taken by Vietnam veterans; they express the extreme difficulty of service during that war, both in terms of its physical and emotional toll on our veterans and on those non-combatants living within the area of intense conflict. Many of the photographs bring us as viewers right into the midst of combat, producing a visceral response to the ugliness of war. Some of these works allow us the intimacy of tender moments between soldier and child, or soldier and pet. All of the works remind us of the human toll of war and conflict. None does more so than the work by Ken Hruby called
War Trophy.
...
For more information see Gallery Guide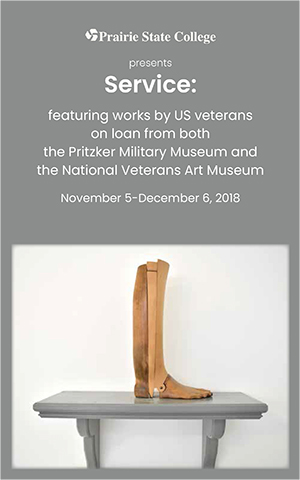 Postcard front: War Trophy by Ken Hruby
---
Dreaming: featuring works by Jim Waid, Clark Elithorpe, Teresa Pankratz, Anne Hughes, Reginald Coleman
Jan. 2 - 24, 2019
Reception: Wednesday, Jan. 16, 11:30 a.m. - 2 p.m.
We all dream. Dreaming has several connotations, one being what happens when we are sleeping; the other instead relates to what we emotionally wish and hope for. Dreaming and imagination are both processes of the human brain, and neither are based on reality. The distinction is that imagination is a rational process in which we take information and then use it in a creative manner to create something new; dreams, on the other hand, come from the unconscious.
Dreams can be a wonderful stimulus for imagination. Dreams used in art have a long history, as artists have depicted what might be perceived in a dream-like state, or they have illustrated ideas conjured during dreaming. In the 20th century, the idea of dreaming took on another slant with the Surrealists, Symbolists and Expressionists, as they explored the unconscious as written about by Freud. The concept here allowed freedom to artists to explore not only what they perceived in the outside world, but to combine images that might not otherwise seem related, allowing the unconscious to emerge as creative director....
For more information see the Gallery Guide.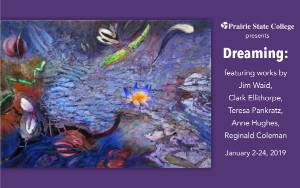 Front: Agua Dulce by Jim Waid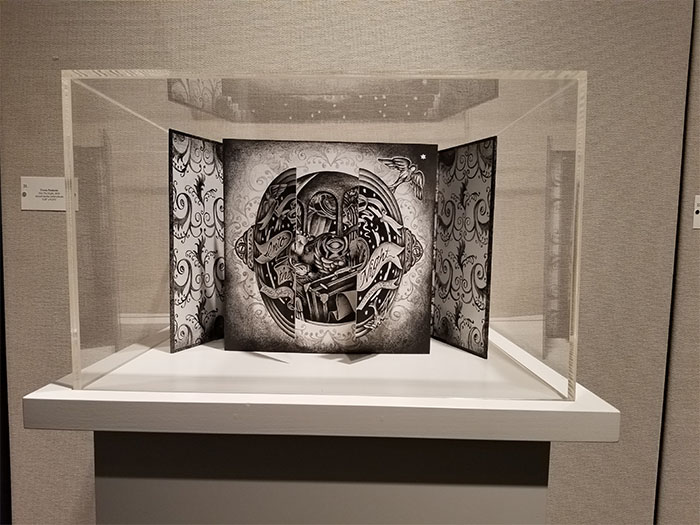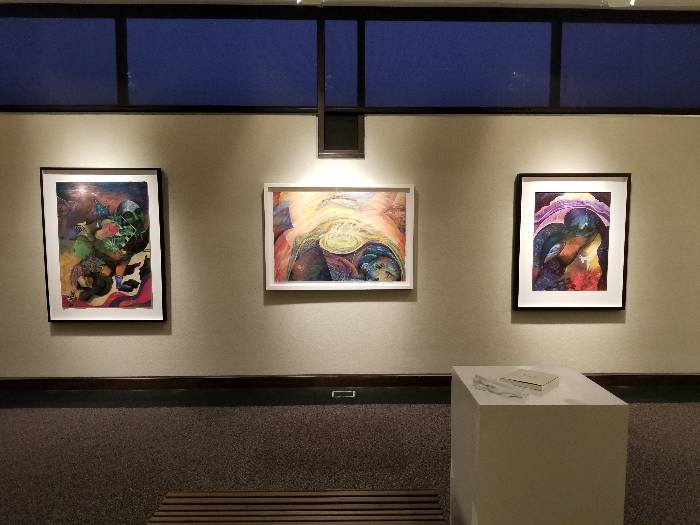 ---
Impact: An exhibition exploring the human mark on the environment.
Feb. 4 - 28, 2019
Reception: Wednesday, Feb. 6, 11:30 a.m.-2 p.m.
We are delighted to present Impact, an exhibition of art that addresses the issue of the environmental impact of human's use and abuse of the earth. The artists Brad Temkin, Cydney M. Lewis, Sandi Miot and Helen Dannelly (these last two partnering in The Coral Project) seek to explore various aspects of the issues of climate change, pollution and sustainability through their works. The idea of the title Impact comes not only from the fact that these socially engaged artists raise awareness of these issues, but from the conviction that as individuals, all of our actions cause consequences for others. These artists consciously choose to draw attention to how our actions as decision-making human beings affect the larger universe. Their creative practice has a social impact on our behaviors, while they address the impact of human intervention on the earth.
Brad Temkin, who has recently been awarded a Guggenheim Fellowship for his work, uses the medium of photography to look at man's use of land. The works shown here are from his Topographic Tales series, looking at sparsely populated landscapes and how mankind has left its scars. His works provide documentary evidence of human impact, whether through cutting the land, leaving debris, or even creating a man-made structure that appears out of place in its natural environment....

For more information see the Gallery Guide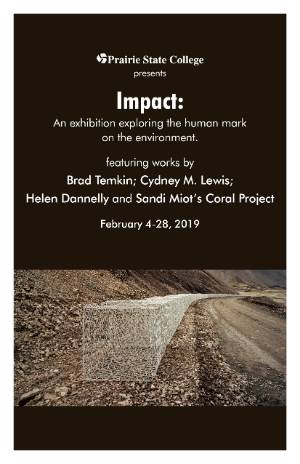 Front: Brad Temkin's Topographic No. 17, digital photograph. Courtesy of Stephen Daiter Gallery, Chicago

---


Annual High School Art Exhibit
March 11 to April 3, 2019
Reception: Thursday, March 21, 5 -7 p.m.
The faculty in the department of Fine and Applied Arts
extends their congratulations to the 37 artists selected
to exhibit their work in this year's annual competition for
high school students.

Students who attend high schools within the Prairie State College district were invited to submit entries in various media, including drawing, painting, photography, graphic design, computer art, mixed media, electronic media, and sculpture. There were 103 entries received, and the works selected to be part of this annual juried exhibit represent the collective talents of students from Beecher, Bloom, Bloom Trail, Homewood-Flossmoor, and Marian Catholic High Schools.

From these works, one was selected as Best in Show,
seven were selected as "Best of Category," in drawing,
painting, photography, graphic design, mixed media,
electronic media and sculpture. Best of Category award
winners receive a free class at Prairie State College. We
applaud those who received these special honors, and
all students whose work is part of this exhibition. These
students represent an outstanding example of the talent
being developed in the high schools in this district, and
we are proud to showcase these artistic endeavors.
For more information see the program booklet.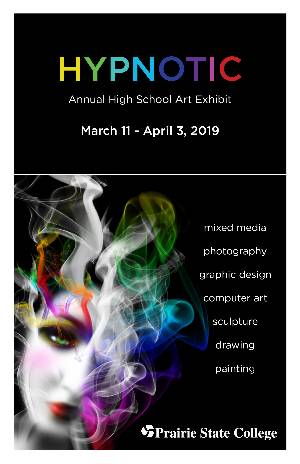 ---
Annual Spring Student Exhibition
April 22 - May 22, 2019
Curated by PSC Art Faculty, Professor Paul Rinaldi
Reception: Tuesday, April 23, 11 a.m. - 1 p.m.

Works in all media, highlighting the best of Prairie State College student art.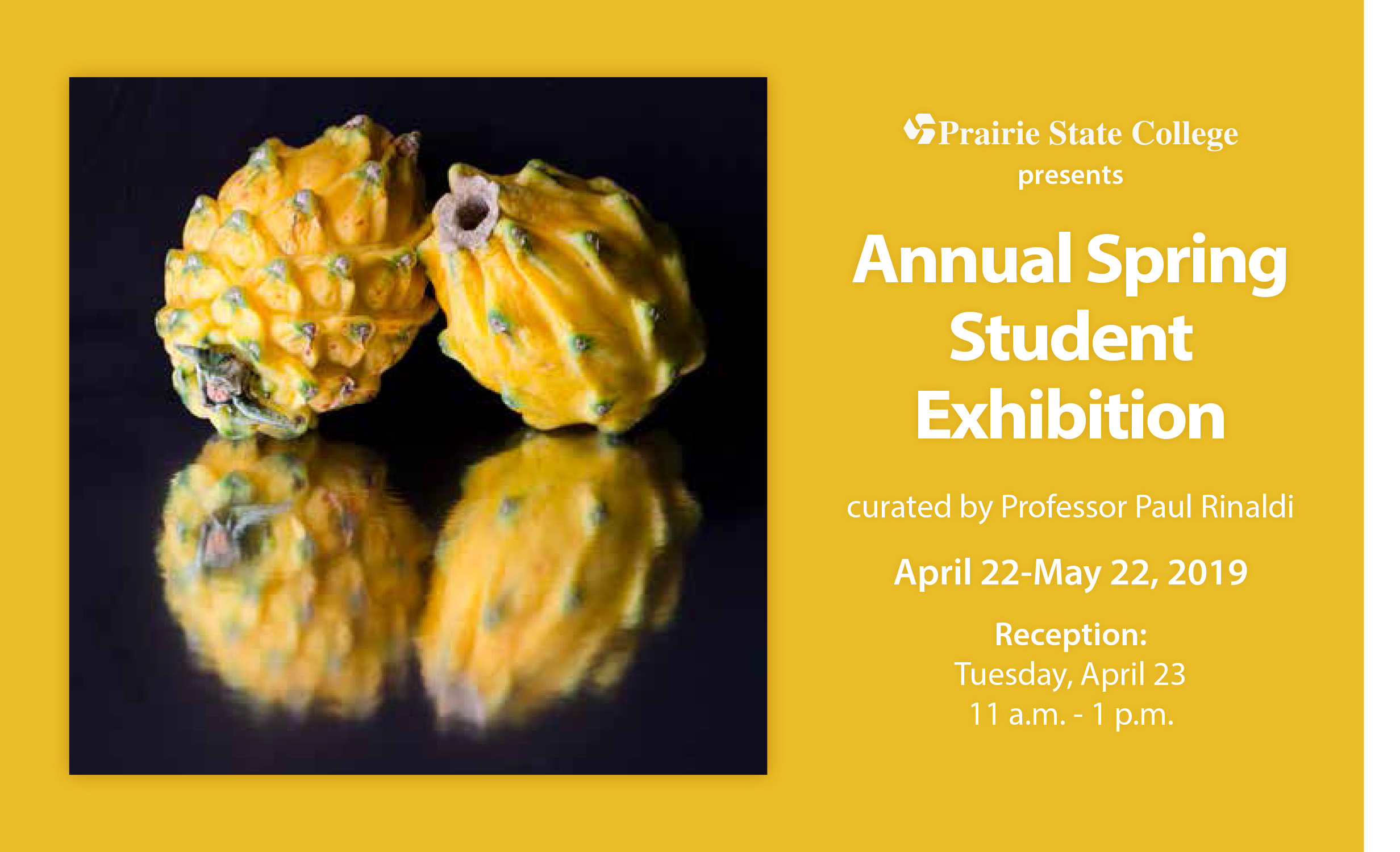 Front: Brenda Reilly, Dragon Hug, Digital Photograph


---
The Interpretive Image
Prairie State College Foundation Photograph Collection Featuring the works of Ansel Adams, Aaron Siskind, Joseph Jachna, Edward Weston and others from the Foundation's Photography Collection.
June 3 - 27, 2019
Gallery Chat: Wednesday, June 12, 5 - 7 p.m.
This exhibition, The Interpretive Image, features selected works from the College's Permanent Photography Collection. There are three distinct sections to the exhibition: one features works by some of the most well-known photographers in the 20th century, including Ansel Adams, Edward Weston, Aaron Siskin, Jerry Uehlsmann, Joseph Jachna and Ray Metzger. Another wall shows two works each by three artists whose larger portfolios are owned by PSC, Manuel Carrillo, Michael Johnson and Danny Lyons. The last section features at least one work by each of the recently acquired works by contemporary photographers from The Museum Project.
For more information see Gallery Guide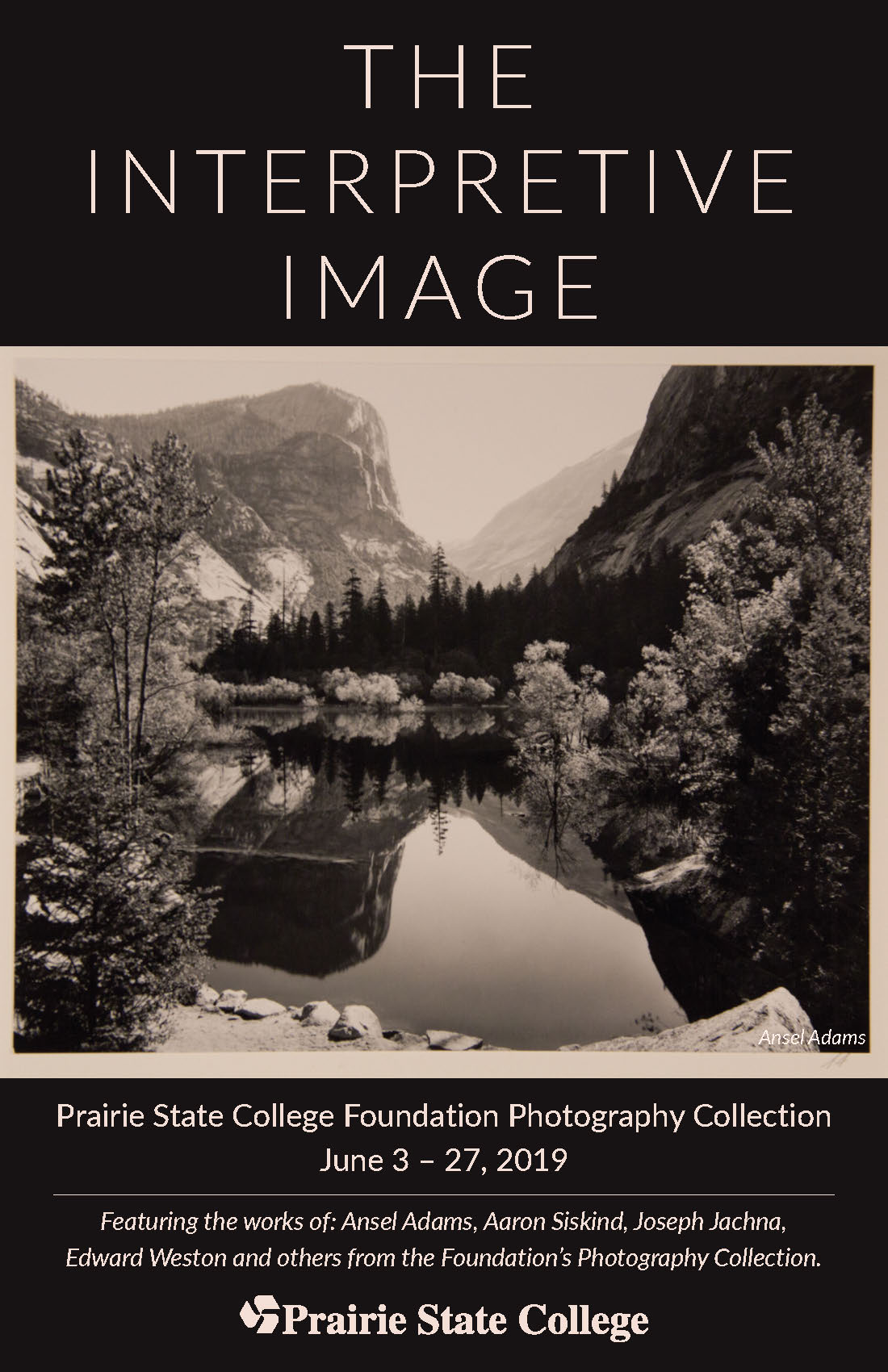 ---
National Parks Project:
Works by Beth Shadur

July 2 - 25, 2019
Reception: Wednesday, July 10, 11:30 - 2 p.m.
The National Park Project was formally begun in 2018 by artist and Gallery Director Beth Shadur as a project to explore the impact of man's footprint on our most unspoiled and untouched natural environments, protected by the federal government since the origin of the National Park System in 1916. Shadur had visited several national parks in summer of 2017 after doing artwork in (as an Artist in Residence) and on various international pristine natural environments, including Banff Provincial Park in Canada, and Iceland. The National Parks in the United States face many challenges related to the nearness of industry, growth in tourism, pollution of the air and water, and climate change. Each national park faces its own challenges and concerns.
For more information see
Gallery Guide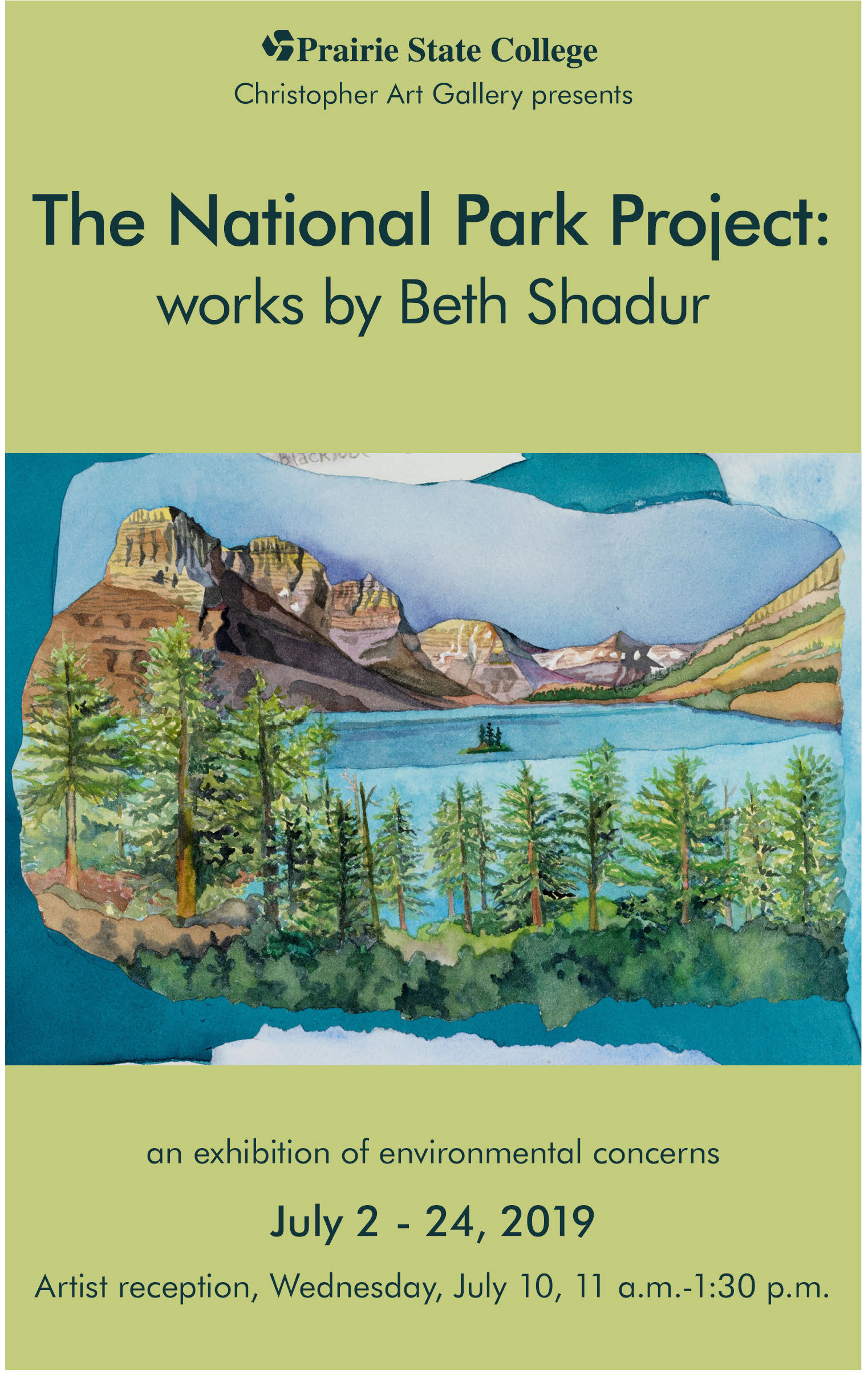 Postcard front: Beth Shadur, detail from Peril,
(Glacier National Park), watercolor
---