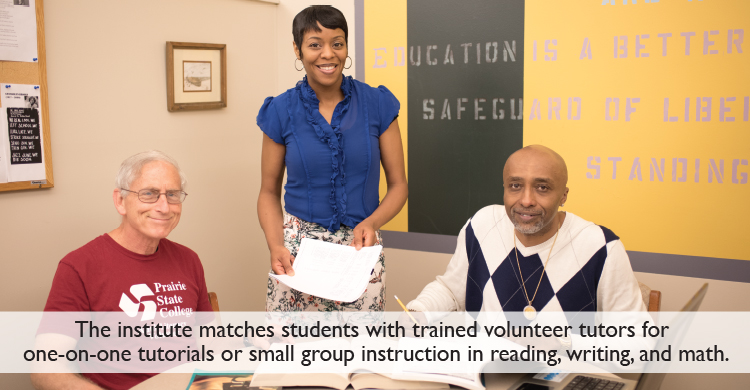 Seeking Adult Literacy volunteer tutors to help individuals improve their skills in basic reading, writing, and math. Are you the ideal candidate? Contribute to your community by contacting Kisha Brown at (708) 709-3724 or at
nbrown1@prairiestate.edu
.
It has been tremendously rewarding serving as a Prairie State College volunteer literacy tutor since 2014. I feel that I have been handed a wonderful gift working with adults of all ages who want to achieve economic advancement and personal growth. The process to volunteer is simple. Literacy staff prescreens and assesses each individual seeking tutorial services. I then meet with the learner to schedule a time to meet and agree on a game plan. PSC provides a safe, comfortable environment and instructional materials. Computers and tutor training are readily available. This is a great opportunity for anyone who wants to change the world - one person at a time!
-Tom Powers, Adult Literacy Volunteer Tutor @ Prairie State College
PSC Offers Tutoring Sites Throughout the PSC District
515 serves the communities of Beecher, Chicago Heights, Crete, Flossmoor, Ford Heights, Glenwood, Homewood, Matteson, Monee, Olympia Fields, Park Forest, Richton Park, Sauk Village, South Chicago Heights, Steger and University Park; plus portions of Country Club Hills, Hazel Crest, Lynwood, Tinley Park; and adjacent unincorporated areas of Cook and Will counties.
This project was made possible by the Illinois State Library (ISL), a division of the Office of Secretary of State, using state funds designated for literacy.
It is the policy of Prairie State College to provide, on a flexible and individualized basis, reasonable accommodations to students who have disabilities.
Volunteer Tutors
Liz Agbarah
Lilian Bacon
Linda Daniels
Ami Falk
Ted Hammons
Lynette Harris
Aaron Horta
Lori McCadden
Sharon O'Neal
Josephine Richard
Adrienne River
Donna Sayler
Joyce Sligar
Dora Smith
Bruce Swiecicki
Liliene Williams
Rose Wlos
Kay Yung


Adult Literacy Student Form
Adult Literacy Volunteer Application
Lesson Plans for Workshops
Lesson plans for computers
Lesson plans for mobile devices (iPhone)
Lesson plans for mobile devices (Android)