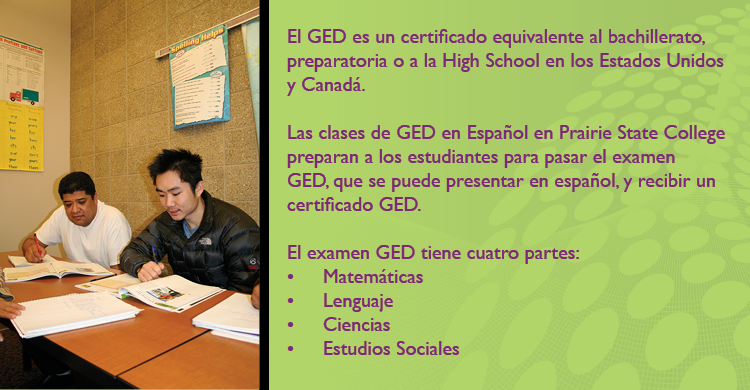 Fechas de Inscripción:

El registro de otoño de 2023 ya está cerrado. Complete el formulario de interés de inscripción a continuación para recibir información sobre nuestro semestre de primavera 2024.
La inscripción toma lugar en el edificio Adult Training and Outreach Center (ATOC).
Las clases de GED® en Español se ofrecen a los estudiantes que hablan español. Les ofrecen la oportunidad de completar los estudios de preparatoria y prepararse para pasar el examen GED® (que es equivalente al "high school diploma").
Las clases se ofrecen en idioma español.
El examen de la Constitución se le ofrece a los estudiantes que deben aprobarlo para que puedan recibir el certificado GED.
Adult Basic and Secondary Education classes offer opportunities for students to improve their basic reading, writing, and math skills.
Spanish GED classes offer Spanish speaking students an opportunity to complete high school equivalency studies that prepare them to take the GED exam in Spanish. A GED certificate verifies attainment of high school level academic knowledge and skills.
Classes are taught in Spanish.
The Constitution test is offered in Spanish to students who must still pass the test in order to receive a GED certificate.