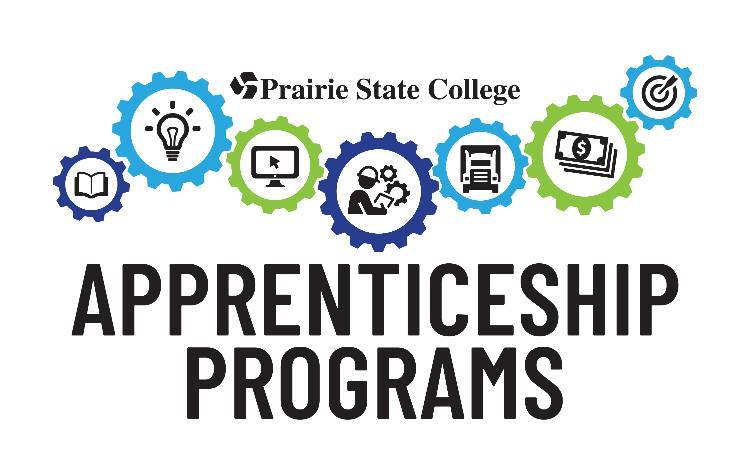 How PSC supports
Apprenticeships
Apprenticeship Programs: Earn and Learn
Registered Apprenticeship is an "earn and learn" model that combines on-the-job learning with related classroom instruction that increases an apprentice's skill level and wages. It is a proven solution for businesses to recruit, train, and retain highly skilled workers.
Aligned with the U.S. Department of Labor, Prairie State College (PSC) supports Apprenticeship opportunities in the following capacities:
As a training provider,
PSC delivers academic instruction and pre-apprenticeship training that is driven by industry standards. Instruction supports employer and PSC sponsored apprenticeship programs.
As an intermediary,
PSC serves as a connector to the local business community while remaining committed to providing students with quality education, experiential learning, and skills that meet employer needs.
As a sponsor,
PSC currently sponsors the following Registered Apprenticeship Programs: Information Technology, Industrial Manufacturing, and Commercial Truck Driving (CDL).
---
Click on the icons below to view program information.
Industrial Maintenance Mechanic
Information Technology
About This Program
Registered with the U.S. Department of Labor (DOL), this three-year program provides completers with an A.A.S. degree in IT Networking from PSC and a nationally recognized credential from the DOL. Participants attend PSC and work in the IT field at the same time. This program is offered, in part, due to an Apprenticeship Expansion Grant for IT Networking.
Industrial Maintenance Mechanic
About This Program
Registered with the U.S. Department of Labor (DOL), this apprenticeship offers a three-year program intended to provide a systematic structure to improve employees' qualifications and commitment to the job. Program completers receive a certificate in Industrial Maintenance Technology from Prairie State College (PSC) and a nationally recognized certificate from the DOL.
CDL
About This Program
Registered with the U.S. Department of Labor (DOL), through this apprenticeship program, completers earn a CDL license and complete 2,000 hours while obtaining an apprenticeship certificate. Program completers obtain their CDL, class A, and a nationally recognized certificate from the DOL.
Informational Videos
---
Informational Video
Learn About the Five Hallmarks of an Apprenticeship
---
Informational Video
What are the Components of a Registered Apprenticeship?
---
Informational Video
Top 10 Reasons to Train an Apprentice
---
Information for Businesses
Many firms and companies have difficulty finding employees with the necessary skills or desired level of company-specific knowledge. Through apprenticeships, employers can reduce operational costs, establish a streamlined channel to find new workers, advance existing workers, build employee loyalty, reduce attrition, and foster new leaders.
PSC partners with local business and industry to create apprenticeship and pre-apprenticeship programs that meet the workforce needs within the Chicago Southland region. We can assist you in development, registration, and implementation of an apprenticeship program for your company. Apprenticeship programs provide a highly skilled work force through classroom instruction and on the job training.
Effective Partnerships: Employer Spotlight
"We are glad that we took the big step forward to establish a joint maintenance apprenticeship program with Prairie State College. We hope to continue this program and partnership long-term to meet the ongoing needs for skilled maintenance employees."
-
Kevin Bachar, Environmental, Health, Safety, Quality & Administration Manager, GELITA USA, Inc.
---
Information for Students
What is apprenticeship?
An apprenticeship allows students to earn while they learn a highly-skilled trade. The programs consist of intensive on the job training and related classroom instruction provided by PSC.
Apprentices receive free education while earning a full-time wage that increases as they progress through the program.
At the completion of the program, apprentices will receive Department of Labor Certification, college credits that can be applied towards a certificate or degree, in addition to secure employment with the opportunity to advance.
Apprenticeship opportunities currently being offered include:
Industrial Pre-Apprenticeship Training
Industrial Maintenance Technician
Information Technology Pre-Apprenticeship
Information Technology Network Technician
Commercial Truck Driver
Student Success Spotlight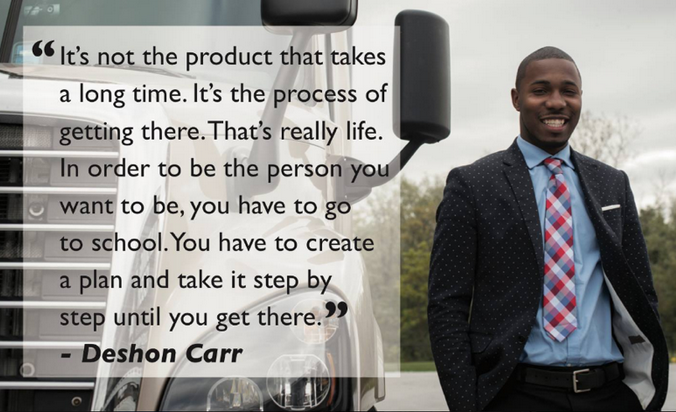 Carr completed the Driving Toward Apprenticeship Success program at PSC, an "earn while you learn" model, allowing students the opportunity to train within the transportation industry, while earning wages from the first day in the classroom. Upon completion of the program, Carr earned a CDL-A apprenticeship certificate.
Contact
If you are a business interested in sponsoring an apprenticeship, or if you are a high school graduate, or working adult interested in apprenticeship opportunities, please contact apprenticeship@prairiestate.edu or 708-709-3656.
Advertising funding provided in whole or in part by the Department of Labor.