Matteson Area Center (MAC)
Community Education
Prairie State College offers a wide variety of personal and professional non-credit classes. It's all part of our commitment to serve the community by providing educational, informational, cultural and recreational activities that appeal to special interests. Students may learn vocational skills, enhance their personal growth or explore vocational pursuits.
Opened as a convenient off-campus location to accommodate district residents, the Matteson Area Center offers credit and non-credit courses, seminars and workshops. In addition to two fully equipped computer classrooms, the Center offers a variety of classrooms with activities daily, evenings and on Saturdays. Call (708) 709-3750 for more information.
Prairie State College does not discriminate on the basis of race, religion, color, age, gender, disability, ancestry, marital status, military discharge status, national origin, veteran status, sexual orientation, or other non-merit factors in educational programs, activities, or employment practices. The College is prohibited by law from discriminating in such a manner. Inquiries may be directed to the Affirmative Action Officer, Prairie State College.
In compliance with Illinois Public Act 86-1363, the Board of Trustees supports a Waste Reduction Program for Prairie State College, which shall include source reduction, recycling and the purchasing of products with a recycled content. Faculty, staff and students of the College shall be expected to comply with this program.
Directions to the MAC
The Matteson Area Center is located in the south suburb approximately three blocks south of Rt 30 (Lincoln Hwy. 211th St) and one block east of IL. 50 (Cicero Ave).
4821 Southwick Dr.
Matteson, IL 60443
(708) 709-3750
From I-57 exit 340A to US-30 E (211th St. Lincoln Hwy) 0.3 miles. Continue onto US-30 E (211th St, Lincoln Hwy) 0.5 miles. Turn right onto IL-50 (Cicero Av) 0.3 miles. Turn west onto Southwick Dr. 0.1 miles. .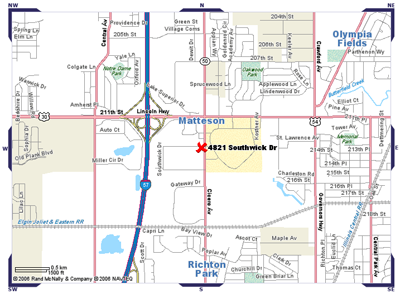 Get Rand McNally directions from your location