Prairie State College offers the following courses in an online format. This course covers instruction provided under contract from a third-party course or program provider.. To receive a non-credit vocational certificate, participants must successfully complete this course offered in partnership with ED2GO. The senior discount is not available for non-credit online courses.
ED2GO.COM
Many other subjects are available. Visit http://www.ed2go.com/mac/ or call (708) 709-3750 for more information or to register. Below is list of over 300 classes we offer.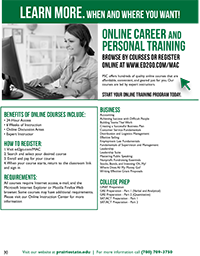 ---
Center for Legal Studies Courses
These training courses are in an online format. Prices vary depending on the course. Some of the courses require textbooks. Visit the links below or call (708) 709-3750 for more information or to register.
Online Courses and Certificate Course Training
Business Administration/Management
Auditing Principles
Business English & Communication
Fundamentals Of Supervision & Management I
Fundamentals Of Supervision & Management II
Governmental Accounting
Lean Mastery
Principles Of Sales Management
Six Sigma
Computers
Introduction to Oracle
Introduction to Quickbooks
Introduction to Red Hat Linux
Introduction to SQL
Introduction to Turbo Tax
Introduction to Windows XP
Performing Payroll in QuickBooks
Courses For Teaching Professionals (PD)
A to Z Grant Writing (Us)
Big Ideas in Little Books
The Classroom Computer
Creating Web Pages
The Creative Classroom
Enhancing Language
Development in Childhood
Get Assertive!
Get Grants
Guiding Kids On The internet
Leadership
PowerPoint in The Classroom
Ready, Set, Read!
Solving Classroom Discipline Problems
Speed Spanish
Understanding Adolescents
Using The internet in The Classroom
Entrepreneur/Business
Administrative Assistant Fundamentals
Effective Selling
Managing Technology
Professional Sales Skills
Start Your Own Consulting Business
Health
Food And Fitness to Fight Cancer
Introduction to Natural Health And Healing
Luscious, Low-Fat, Lightning-Quick Meals
Internet
Getting Organized with Outlook
Languages
Braille Transcription
Speed Spanish
Personal Enrichment
Assisting Aging Parents
Consumer Economics
Conquer Your Stress!
Debt Elimination Techniques That Work
Get Assertive!
Give That Speech
Guiding Kids On The internet
Intro to The Game industry
Job Search Strategies
Online Investing
Parenting: The First Five Years
Photoshop
Solving Discipline Problems At Home
Personal Finance
The Analysis And Valuation Of Stock
Building Wealth
Where Does All My Money Go?
Test Prep
GED Preparation I
GED Preparation II
GRE Preparation I
GRE Preparation II
SAT/ACT Preparation I
SAT/ACT Preparation II
Writing
Beginning Writer's Workshop
Fundamentals Of Technical Writing
Pleasures Of Poetry
The Keys to Effective Editing
Travel Writing
Writing For Children