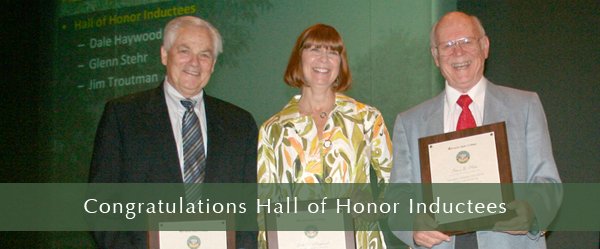 Hall of Honor 2010 Inductees
Biographies
Dale W. Haywood
Dale W. Haywood was a professor of mathematics at PSC for 31 years before retiring in 2000. During his tenure, he took on many additional roles, including faculty division chair, president of the faculty federation, member and chief negotiator of the faculty negotiating team, member of the executive council of the faculty federation, president of the faculty senate, chair of the curriculum committee, chair of the mathematics department, and committee member on numerous other committees. Haywood also was instrumental in expanding faculty professional development and the curriculum of PSC. His devotion to the math department and the entire college community was extraordinary. Haywood, who died in 2005 after a battle with Leukemia, was a man of honorable character, always willing to assist others, and always an advocate for faculty.
Glenn E. Stehr
Glenn E. Stehr was a professor of biology for 26 years before retiring in 1984. He was one of the original 16 faculty members to serve at Bloom Township Junior College in 1958. When PSC separated from the high school, Glenn continued on as a faculty member. During his tenure at PSC, he was instrumental in establishing the biology curriculum, and courses for the nursing, dental hygiene, and dental assistant programs. He also assisted in developing science courses to help students moving into other medical career programs, such as pre-med, pre-dental, pre-veterinarian, pre-mortician, pre-podiatry, pre-optometry, pre-osteopathy, and pre-chiropractic. Stehr's greatest accomplishment was assisting hundreds of students with their studies – studies that would culminate in them successfully achieving their academic and professional goals. Teaching at Prairie State College was a labor of love for Glenn.
James M. Troutman
James M. Troutman served as vice president at PSC for 24 years before retiring in 1999. He provided exceptional leadership for his division which included business services, MIS, human resources, physical plant and facilities, support services, duplication, and the mailroom. Troutman served as treasurer of the Board of Trustees, a Foundation director, and treasurer of the Foundation. He was a member of the Budget Development and Review Council, Facilities Resources Council, Technology Resources Committee, and College Leadership Team. He chaired the negotiating teams for faculty and support staff contracts. Troutman also represented PSC in many professional organizations and civic groups. From 1999 to 2000, he served as interim president of PSC. His calm and quiet leadership was highly effective and he always considered what was best for the College.