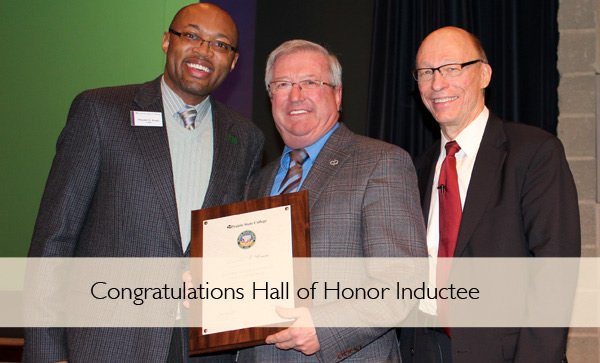 Former PSC President Eric Radtke (right) and PSC Board of Trustees member Wendell Mosby (left)
congratulate the 2011-2012 Hall of Honor inductee, Don Uram.
Over its history, Prairie State College (PSC) has employed many individuals who have committed time and energy to help shape its mission, values, and reputation both in the community and in the state. In order to pay tribute to those people, PSC has created a Hall of Honor. This Hall of Honor will recognize faculty, administrators, staff, and trustees who have made a significant and positive contribution to the college.
Present and former members of the PSC community have the opportunity to recommend to the Hall of Honor Committee the names of those people they feel are deserving of the honor. Of the nominees, candidates will be selected and inducted. Although all nomination forms received will be considered, not all will be chosen.
Nominating someone is easy! Just fill out and submit the form at the bottom of this page or you can also e-mail Pat Trost with your nomination at ptrost@prairiestate.edu.
Here are the criteria for nomination:
Nominee was a full-time faculty member, an administrator, a staff member, or trustee.
Nominee had at least 15 years of service to the college.
Nominee has not been an employee of the college for at least 5 years.
We hope you'll take a few minutes to consider a person you know and believe is deserving of this important tribute.
Hall of Honor Committee
Jim White, Chair
Sally Haywood
Patricia Hunter
Don Kouba
Paulette Maurer
Cindy Somer
Glen Stehr
Pat Trost
---