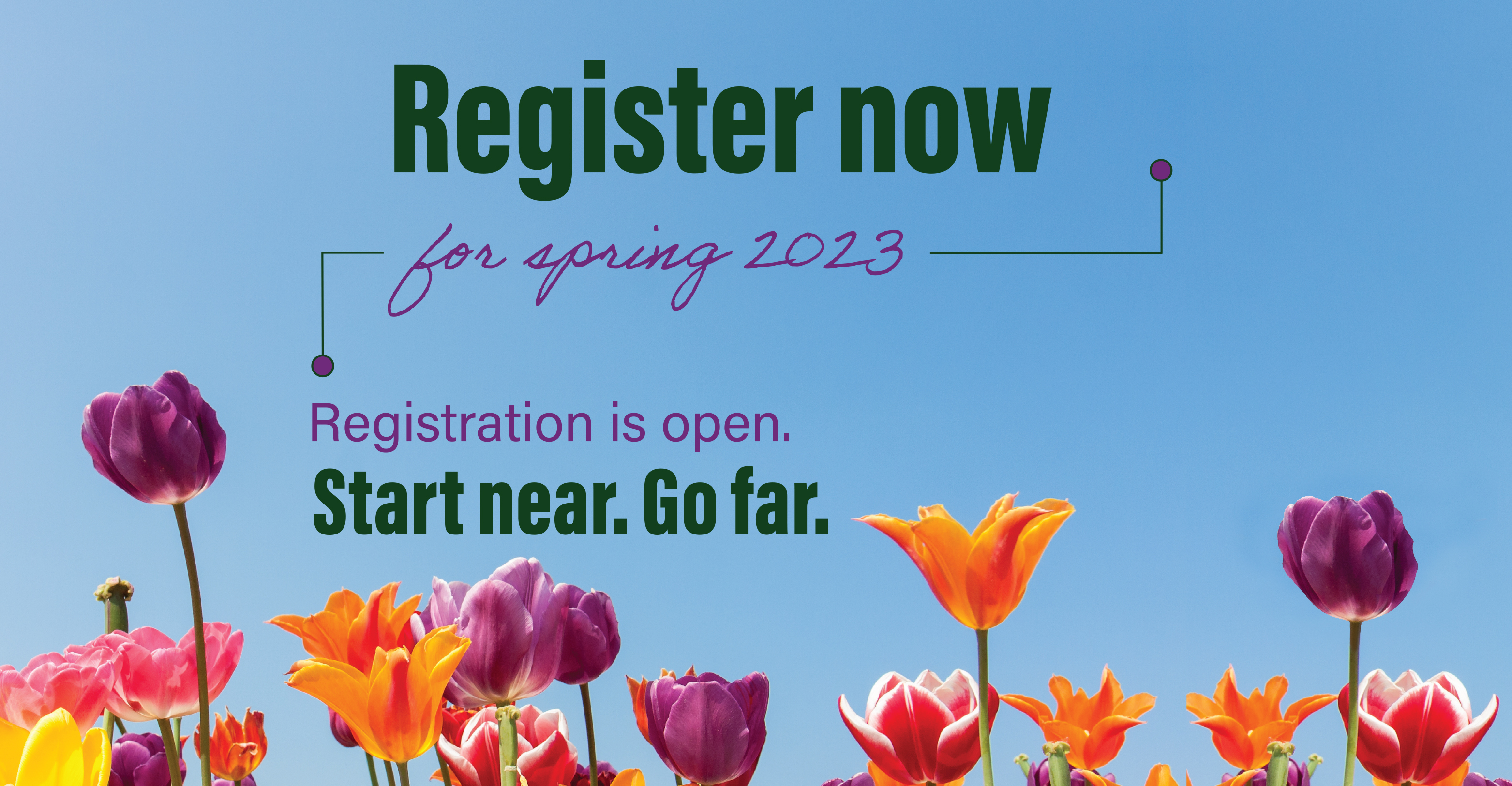 Our campus is open for in-person services, including advising, enrollment services, financial aid, business office, the library, and other departments to offer personalized, face-to-face assistance.
Students are encouraged to come to campus or register for classes on WebAdvisor.
Get Started at PSC
---
Walk-ins are encouraged for prospective and current students who want to meet with an advisor or speak with someone in enrollment services or the business office. The financial aid office is open for walk-in appointments as well.
Note: Continuing students may register for classes on WebAdvisor, with the exception of those who have restrictions on their student accounts.
Spring 2023 Enrollment Guide
---
Need Help?
Students are encouraged to come to campus to meet with an Academic Advisor or a member of Enrollment Services. No appointment required.
Understanding Course Formats:
---
Course Delivery Methods
We want to make sure you are up-to-date on how classes are offered. Courses listed in WebAdvisor are marked to identify how the class will be delivered.
IN:

Online courses with no designated meeting time

| (Example: Eng 101 IN)
Students learn independently through readings, videos, exams, written work, and online exercises. Although there are no meeting times, and students can access lectures and lessons at their convenience, these classes are not entirely self-paced—students will be required to complete assignments and sit for exams according to given deadlines. Faculty may choose to offer optional supplemental opportunities to support the classroom activities.
MP:

Online with a designated meeting pattern

| (Example: Chem 110 MP)
Although entirely online, students attend these classes as they would a traditional course. Connected by webcam and microphone, students and their professors will engage in lectures and class discussions. As with other online classes, coursework will not be self-paced, and deadlines for assignments and exams will apply.
HYB or HY:

A blend of online learning and face-to-face sessions

| (Example: Nurs 100 HYB01)
Hybrid courses have learning activities that must be completed online as well as class sessions that require on-campus or other in-person attendance, such as labs, clinicals, presentations, or other activities. If a student is registered for a hybrid class, the in-person class session offered will be on campus or at other locations depending upon the needs of the program. These in- person meetings will only occur during the scheduled in-person class time.
Face-to-Face:
Face-to-face courses are listed with designated meeting time, days, and an assigned room. (Example: ECON 201-01, MW 9:30-10:45, Room 3140.)
If you are still unsure how your classes are formatted, please reach out to an advisor for help at
advising@prairiestate.edu
.
Resources
---
Need a laptop this semester?
---
Students in need of technology can borrow a laptop from the College for the Fall semester. Please fill out an online request form. If you require specific software, additional options are available upon request. The form will be routed to the Bursar to ensure that you meet the qualifications and you are in good financial standing at the College.
Request for Call or Virtual Meeting:
---
We are available by phone, email, or virtual appointment only. Those who want to meet with an advisor or speak with someone in enrollment services, financial aid, or the business office are welcome to schedule an appointment here.
Get Technology Support!
---
Our Technology Support Center provides PSC students with a single point of contact for PSC computer-related problems or PSC equipment or software questions. The Technology Support Center is also your point of contact for all password or login issues. If you need assistance, contact helpdesk@prairiestate.edu.
Building Access Guidelines:
---
Prairie State College looks forward to the day when we can open our campus to the community without the limitations and restrictions of the COVID-19 pandemic. Until then, the College has established Building Access Guidelines to provide a framework for employees, students, community members, and guests to enter PSC campuses and facilities safely.
PSC Foundation Scholarships
---
The PSC Foundation awards need-based scholarships to students to bridge the gap between what students receive from financial aid and what they can afford. Learn more or apply for a scholarship online now.