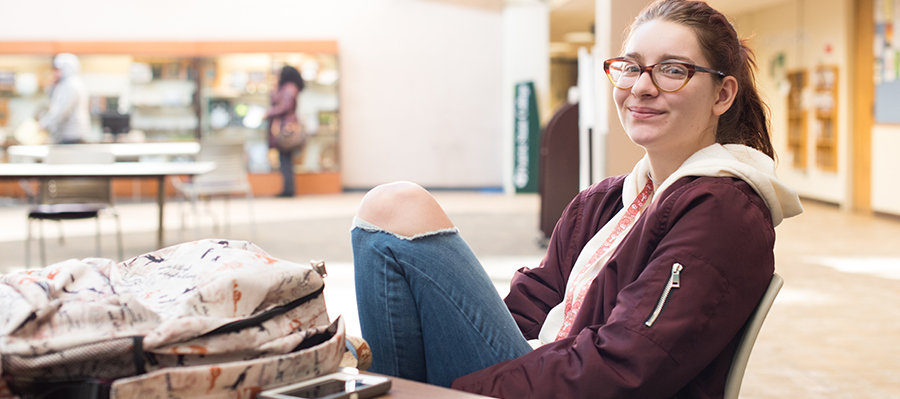 The Prairie State College (PSC) Department of Student Affairs is pleased to provide you with this list of information PSC must disseminate under the Higher Education Act of 1965, as amended, and the Family Education Rights and Privacy Act. Listed below is the type of information PSC is required to provide and the college offices or materials where the information can be found. Please refer to these "information sources" if you need more information.
Prairie State College is accredited by the Higher Learning Commission (HLC). The HLC accredits degree-granting post-secondary educational institutions in the north central region.
Contact information for the HLC:
Higher Learning Commission
230 South LaSalle Street, Suite 7-500
Chicago, Illinois 60604-1411
Phone: (800) 621-7440 / (312) 263-0456
Fax: (312) 263-7462
info@hlcommission.org
www.hlcommission.org
To obtain or review documents describing accreditation, approval or licensing, contact the President's Office, room 2270, or email Pat Trost, Administrative Director-President's Office and Board of Trustees, at ptrost@prairiestate.edu.
Copies of letters or certificates of accreditation may be viewed at the Welcome Center and the President's Office, room 2270.
---
GENERAL INFORMATION
PSC Office of the Vice President, Academic Affairs: (708) 709-3541
Names of associations, agencies, and/or governmental bodies that accredit, approve, or license the school and its programs, and the procedures by which a student may receive a copy for review of the school's accreditation, licensure, or approval
Office of Disability Services: (708) 709-3755
Special facilities and services available to disabled students
PSC Business Office: (708) 709-3577
The costs of attending PSC (tuition and fees; books and supplies; and applicable transportation costs) and any additional costs of the program in which you are enrolled or have expressed an interest. Schedules racks located on PSC's Main Campus.
PSC Office of Enrollment Services: (708) 709-3513
Refund policies and official withdrawal procedures
Degree programs, training, and other education offered
PSC Office of Counseling and Academic Advising: (708) 709-3506
The instructional, laboratory, and other physical plant facilities associated with PSC
List of faculty and other instructional personnel
Prairie State College Campus and Extension Sites
Main Campus, 202 S. Halsted St., Chicago Heights, IL 60411. Phone: (708) 709-3500
Matteson Area Center, 4821 Southwick Dr., Matteson, IL 60443. Phone: (708) 709-3750
General Institutional Issues
PSC Office of the President: (708) 709-3637
Education statistics
Campus Crime Report
PSC Police Department and Campus Safety: (708) 709-7777
FERPA Policy - This form describes the College's compliance with the Family Educational Rights and Privacy Act
PSC Office of Enrollment Services: (708) 709-3513

Drug Abuse Prevention Information
PSC Office of Counseling and Academic Advising: (708) 709-3506
PSC Health Promotions Programming: (708) 709-7897
Sexual Harassment in Higher Education
Any student who believes he or she is being subjected to sexual harassment or retaliated against should report incident(s) to Felix Simpkins, Dean, Student Development and Campus Life: (708) 709-3518
Examples of Sexual Harassment in Higher Education
Protection Against Retaliation
What to Do
---
FINANCIAL AID INFORMATION
Types of need-based and non-need based federal financial aid available to Prairie State College students.
PSC Office of Financial Aid: (708) 709-3735
Types of need-based and non-need based state and local aid programs, school aid programs, and other private programs
How students apply for financial aid and how eligibility is determined
How Prairie State College distributes aid among students

How and when federal funds are disbursed

The terms of, schedules for, and the necessity of loan repayment and required exit counseling

The criteria for measuring Financial Aid Satisfactory Academic Progress (FASAP) and how a student who has failed to maintain FASFA may reestablish eligibility for federal aid
PSC Foundation: (708) 709-3631
The rights and responsibilities of students receiving institutional aid

How and when institutional grants and scholarships are disbursed
Availability of SFA funds for study abroad programs
PSC does not have a study abroad program. PSC courses may have sessions out of the US, but courses are PSC courses.
Individual state financial aid agencies
website: http://collegezone.com/studentzone/416.htm
Drug Conviction and Your Financial Aid
website: http://studentaid.ed.gov/portalswebapp/students/english/aideligibility.jsp?tab=funding
---
OUT-OF-STATE COMPLIANCE AND COMPLAINT RESOLUTION
Online and distance education is an important part of the PSC program offerings. Recent amendments to the Higher Education Act of 1965 include changes in regulation for State Authorization that may impact online, distance, and correspondence education providers. Read more
PREVAILING WAGE NOTICE

NOTICE OF THE PRAIRIE STATE COMMUNITY COLLEGE DISTRICT 515'S PREVAILING WAGE RATES DETERMINATION


TAKE NOTICE that pursuant to the Prevailing Wage Act (820 ILCS 130/0.01, et seq.) (the "Act"), the Board of Trustees of Prairie State Community College District 515 (the "District"), has enacted a resolution that sets forth the prevailing rate of wages, as defined in the Act, for laborers, mechanics and other workers in the locality of the District employed in performing the construction of public works for the District. The District's determination of the prevailing rate of wages in accordance with the Act (the "Determination") is effective and copies of the resolution and the Determination are available for inspection by any interested party in the main office of the District, which is located at 202 S. Halsted St., Chicago Heights, Illinois 60411. The prevailing wage rates for the District are the same as determined by the Illinois Department of Labor for Cook and Will County. The Determination will be mailed to any employer, to any association of employers and to any person or association of employees who have filed or file their names and addresses with the District, requesting copies of the Determination.

/s/ Ronald J. White
Prairie State Community College District 515
Secretary of the Board of Education