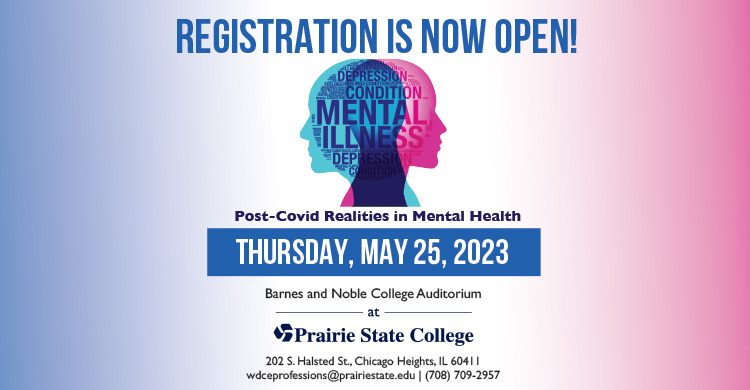 ---
"Post-COVID Realities in Mental Health"
What to Expect
From social isolation and financial uncertainty to grief, anxiety, and depression, the pandemic has brought about unprecedented challenges and stressors that have significantly impacted people's mental wellbeing.
At this year's Mental Health Conference, we will explore various ways in which COVID-19 has affected mental health, share strategies for supporting individuals and communities, and discuss ways to promote mental wellness in a post-pandemic world. Participants will have the opportunity to hear from a keynote presenter and choose from a variety of breakout sessions.
Who Should Attend
Those interested in learning about mental health issues will gain valuable information. Participants who work in healthcare, education, counseling, social services, and emergency services are especially encouraged to attend.
Continuing Education and Professional Development
6.0 CEUs available to Social Workers, Nursing Home Administrators, Registered Nurses, Advanced Practical Nurses, Licensed Practical Nurses, Licensed Professional Counselors, Licensed Clinical Professional Counselors, Marriage and Family Therapists, and Speech Pathologists through the Illinois Department of Financial and Professional Regulation.
6.0 PDs for Teachers through the Illinois State Board of Education.
6.0 PDCs for Human Resources professionals through SHRM.
Registration Information
Early Bird Registration through March 31: $49 ($59 including CEU/PD)
Registration from April 1-30: $59 ($69 including CEU/PD)
Late Registration from May 1-17: $79 ($89 including CEU/PD)
REGISTRATION CLOSES MAY 17, 2023.
For additional information, please email wdceprofessions@prairiestate.edu or call (708) 709-2957.