Men's Head Soccer Coach - Carlos Reyes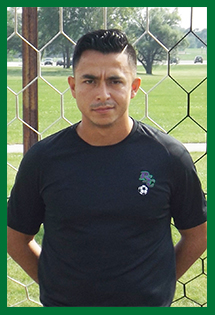 With a playing career that reached both the collegiate and professional levels, Prairie State College men's soccer head coach Carlos Reyes knows exactly what is required when it comes to taking a team to the "next level."
Entering his third full season at the helm of the Pioneers' program in 2018, Reyes will once again use his wealth of soccer knowledge and expertise to help guide PSC toward its ultimate goal of grasping its first national title in school history.
Already one of the most respected programs in the NJCAA Region IV when he replaced former PSC head coach David Spataru in October of 2015, Reyes' first season at the reigns was an overwhelming success, to say the least.
During the 2016 campaign, the Pioneers posted an overall record of 14-4-1, good for the second best mark in school history.
Reyes followed that up with a 10-8 showing in 2017.
Reyes, a product of Mount Carmel High School in Chicago, was both a Daily Southtown All-Area and All-Chicago Catholic League selection his senior year of 2006. The 5-foot-11 defender/midfielder was also a Times of Northwest Indiana All-Area pick following his junior slate of 2005.
Following his standout prep career, Reyes played two seasons at South Suburban College before transferring to Trinity Christian College in Palos Heights.
Reyes turned his sights on a pro career following his days with the Trolls, spending a season with the Chicago Mustangs of the indoor Major Arena Soccer League.
When not coaching, Reyes works as an academic advisor, recruiter and counselor at PSC.
Men's Assistant Soccer Coach - Michael Afoenyi