Frank Wilkins
Head Coach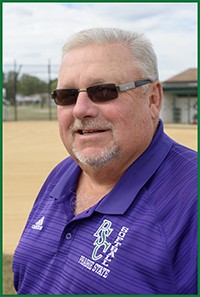 Frank Wilkins came to Prairie State College with an advanced knowledge of how to win a collegiate softball game.
As well he should have, considering he'd only done it 317 times in his storied career.
Wilkins, the all-time winningest coach in St. Joseph's College (Ind.) softball history, took over the reigns as the steward of the Prairie State College softball program for the 2015 season and the results were impressive, to say the least.
The Pioneers vastly improved upon an 11-26 record from 2014 with a 23-17 mark in Wilkins' first year at the helm.
Under Wilkins' guidance, the Pioneers also made history, leading the nation in both team batting average (.424) and on-base percentage (.492) for the first time in program history.
With over 30 years of high-level coaching experience, Wilkins brought with him a track record of proven success.
The longtime foreman at Inspat Inland Inc. of East Chicago, achieved his biggest coaching accomplishment in 2012 when he guided the Pumas to the NCAA Tournament for the first time in program history. Wilkins' club culminated its historic run with a Super Regional championship and berth in the College Softball World Series.
St. Joseph's was eventually eliminated from the Word Series, following an 11-inning, 2-1 loss to defending national champion University of California San Diego. During the Pumas' improbable run, Wilkins led his team to a 40-21 overall mark and 22-12 record within the Great Lakes Valley Conference.
Wilkins compiled an overall ledger of 317-308 in 13 seasons at St. Joseph's.
The graduate of T.F. North High School in Calumet City, also didn't limit his coaching career to the collegiate ranks either.
Wilkins helped found StarPath Softball, one of the top women's fast-pitch teams in America.
Wilkins compiled a 397-105 record with StarPath. What made Wilkins' mark even more impressive was the fact that StarPath competed against many of the nation's best club programs.
The StarPath program has won the Indiana state championship four times and has competed in the women's Major National Championships twice. The club participated in an international tournament in Montreal, Quebec, Canada in 1996, posting a 9-1 record.
Wilkins resides in Dyer, Indiana with his wife, Barb. They have two children (Julie and Michael) and three grandchildren (Emma, John and Grace).
Kassandra Johnson
Assistant Coach