Erik Moreno
Women's Head Soccer Coach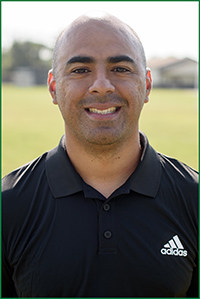 Erik Moreno enters his second season ar the helm of the Prairie State College women's soccer team in 2017.
Last season, Moreno made the transition from the high school coaching ranks to those of the college game as the Pioneers posted an overall record of 4-6-1.
Moreno succeeds Agustin Herrera, who guided the Pioneers from 2011 to 2014.
Moreno comes to PSC with an advanced knowledge of the game, constructed after spending a lifetime in it as a player, coach and official.
The highly-motivated Moreno played one season of collegiate soccer at Triton College before moving on to concentrate on his scholastic career at Purdue University Calumet, where he earned a Bachelor of Science degree in marketing.
Despite taking the pitch for just one campaign, Moreno made the most of his college playing experience, garnering first-team NJCAA All-American honors for the Trojans following the 1997 season.
A product of Bishop Noll Institute in Hammond, Indiana, where he was honored as an all-state, all-area, all-district and all-conference performer, Moreno resides in Chicago's Beverly neighborhood with his wife and two children.