Commencement Information
PSC grants certificates and the following six associate's degrees:
Associate in Arts (A.A.)
Associate in Science (A.S.)
Associate in Fine Arts (A.F.A.)
Associate of Arts in Teaching (A.A.T.)
Associate in Applied Science (A.A.S.; career and technical degree)
Associate in General Studies (A.G.S.; not intended for career program or a bachelor's degree)
Specific curriculum requirements for a particular degree or certificate program are found in the catalog under DEGREES, CERTIFICATES, COURSES in section 2. Consult that section of the catalog and the index for detailed information.
Graduation Requirements
To earn a degree or certificate, you must complete the academic requirements shown in the catalog for the year in which you entered Prairie State College. If the degree or certificate requirements are changed during your attendance, you may elect to satisfy either the new requirement or the ones in force when you enrolled. If you withdraw from Prairie State College for either a fall or spring semester, you must satisfy requirements in force at the time you re-enroll.
Students planning to receive a degree and/or certificate at PSC must request an official evaluation of their credits in the Office of Enrollment Services by completing the "Transcript Evaluation Request Form" at least one or two semesters prior to degree and/or certificate completion in order to ensure correct course selections.
Graduation Petition
When submitting a graduation petition, you will be asked to identify the year of the catalog from which you are graduating. Any modifications of graduation requirements must be approved by the department. A course substitution form must be completed with the program coordinator. The dean of the department also will review the document. If approved, the course substitution form will be submitted to the Office of Enrollment Services.
Students must submit a graduation petition to the Enrollment Services Office by the following deadlines to be eligible for graduation:
October 1 for December graduation
March 1 for May graduation or August graduates participating in May ceremony
July 1 for August graduation
December, May and August candidates may choose to participate in the annual May Commencement ceremony (see Commencement Ceremony).
Graduation Petition Instructions:
Obtain the Graduation Petition form in the Enrollment Services Office
Complete the form, carefully printing your full name as you want it to appear on your diploma
Pay the appropriate fee in the Business Office (staff member in Business Office must sign the bottom of the form)



Graduation fee is $20 per degree and/or certificate. Petitions received after the posted deadlines are charged an additional $20.

After payment, return form to Enrollment Services Office. The staff will sign the form and give you a copy of the petition.
In approximately 2 to 3 weeks, you will receive an eligibility notice in the mail, along with additional information regarding the awarding of your degree and/or certificate.
Commencement Ceremony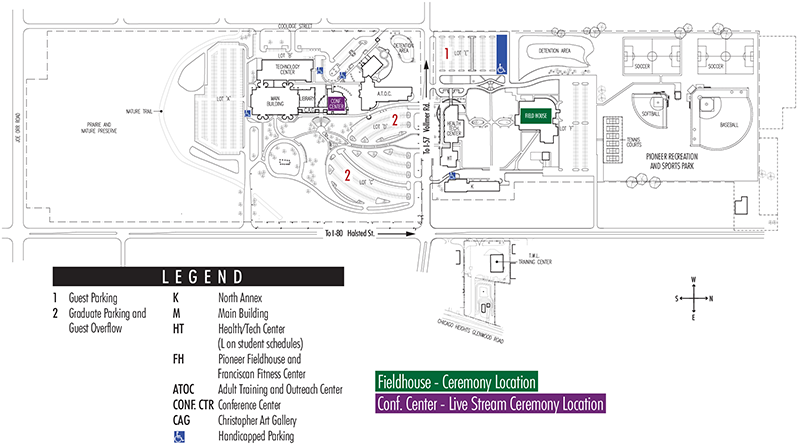 Commencement for the 2119/2020 academic year will be held Saturday, May 16, 2020, at the Franciscan Fitness Center Fieldhouse at 100 197th Place, Chicago Heights 60411, north of the Prairie State College campus.
Doors open at 9:15 a.m., the ceremony begins at 11 a.m.
No admittance once the ceremony begins
No strollers allowed
Everyone attending must have a ticket – including babies

Participation in Commencement
Commencement is a ceremony held once a year, at the end of the spring semester in May, that celebrates the completion of a PSC degree or certificate program. Graduates from the previous fall, current spring, and upcoming summer terms are invited to participate. Participation in the Commencement Ceremony does not imply that a student has graduated. A Commencement (graduation) ceremony is held once a year, at the end of the spring semester in May. Graduates from the previous fall, current spring, and upcoming summer terms are invited to participate.Note: This is the only ceremony held all year, though you may be certified as a graduate at the end of any semester of the academic year.
To participate in the Commencement ceremony, a student must file a graduation petition and have completed all degree requirements for graduation as confirmed by Enrollment Services.
The deadline to apply for the ceremony is March 1 for spring and summer graduates. Previous fall graduates are automatically notified via mail at the end of March regarding participation in the ceremony.
For each degree application, a fee of $20 will be charged upon petitioning for graduation (this includes the cost of a degree diploma). There is no additional fee to participate in the ceremony.
Students who have no more than nine credits remaining to complete their degree requirements, have at least a 2.00-grade point average, and are enrolled for the remaining nine credits for the degree completion in the upcoming summer session(s) also may participate in the Commencement Ceremony.


Awarding of the Diploma
A faculty or staff member of the college who has a family member participating in Commencement and wishes to present the diploma to the individual during the ceremony may petition the President for permission to do so. Because of the planning and coordinating requirements of the Commencement ceremony, only PSC faculty or staff members currently employed at the college may be extended this privilege.


Attention Student Veterans:
If you wish to participate in the Veterans Stole Ceremony, you must contact Georges Sanon, Student Veterans Center coordinator, at (708) 709-3567.
For more information regarding commencement, please contact Helen Manley at hmanley@prairiestate.edu or (708) 709-3910.
Video
A DVD of the 2019 Prairie State College graduation will be available for purchase. Please complete an order form and reserve a copy to have as a keepsake of your accomplishments.
Cap and Gown Information / Cap and Gown Pick-Up Dates
Cap and Gown Pickup for Students
Cap and gown pick-up will be Wednesday, May 8th and Thursday, May 9th, from 9 a.m. - noon, and 2 - 4 p.m.
You may pick-up your cap and gown in the Student Leadership Center, Room 1260 on the college's first floor.
At that time, we will ask graduate candidates to fill out a short online survey, and they will also receive their cap, gown, pack of announcements, information sheet, and four tickets. There are also two additional green tickets available on a first come first serve basis that will be for a live streaming of the ceremony, and will be held in the Prairie State College Barnes & Noble Auditorium and not in the actual location of the ceremony.
If you cannot make these dates, please call Helen Manley (708) 709-3910
Important Commencement Information
A letter will be mailed to students in late April regarding when they will be able to pick-up their regalia. At the same time you will be receiving your 4 tickets (or less) and 10 announcements with an information sheet that will answer questions. If you cannot pick up at the times above, please call (708) 709-3910. We will also have surveys we would like you to fill out.

Those interested in extra tickets must call Helen Manley (708) 709-3910 to be put on the list. There are, however, no guarantees that by being on the list you will be able to get extra tickets.

Based on the student's cumulative GPA (thru Fall, 2019), those who are eligible for honors medallions will receive them on May 18.
Members in good standing of Phi Theta Kappa Honor Society, Nu Sigma Chapter, are invited to wear distinctive Phi Theta Kappa regalia at the time they graduate and participate in commencement exercises at Prairie State College.
If you wish to wear the Phi Theta Kappa stole, tassel, and honors cord (or any combination thereof), please place your order online at http://store.ptk.org/ no later than the last week of April to ensure delivery to your home address in time for Commencement. Phi Theta Kappa members will need to provide their membership identification number at time of purchase to verify their membership in the honor society. Regalia will not be sold on campus, or be available the day of Commencement. Please plan accordingly. Please contact Phi Theta Kappa faculty advisor Dr. Justin Pariseau at jpariseau@prairiestate.edu with any questions.
If the graduate or guest has special needs, contact Helen Manley at hmanley@prairiestate.edu or (708) 709-3910.
For more information regarding commencement, please contact Helen Manley at hmanley@prairiestate.edu or (708) 709-3910.
Tickets
Each graduate will receive four tickets for commencement. These tickets are for seats in the Pioneer Fieldhouse. If a graduate needs additional tickets, seating will be available in the Barnes & Noble College Auditorium on a first come, first serve basis, with a maximum of two additional tickets per graduate.
Doors open at 9:15 a.m., the ceremony begins at 11 a.m.
No admittance once the ceremony begins
No strollers allowed
Everyone attending must have a ticket – including babies
Announcements
Students will receive one (1) package of ten (10) announcements free. If you need additional packs, they are $5 each and those can be picked up at a later date if they are still available.
Graduation Honors
There are three categories of graduation honors: Cum Laude (3.30-3.64 GPA); Magna Cum Laude (3.65-3.84 GPA); and Summa Cum Laude (3.85-4.0 GPA). Certificate students are not eligible for graduation honors.
The earned GPA is used to determine the recognition of honors at the ceremony. [Please note, any courses in progress during the spring term will not be used to determine honors eligibility for the ceremony.] The official designation of honors will be applied to the student's transcript once all grades have been received for the semester in which the degree is conferred.
For more information or clarification about the Commencement Ceremony or the above graduation honors, please contact Helen Manley (708) 709-3910, or stop by the Student Leadership center, room 1260.
psc 2019 Commencement Video