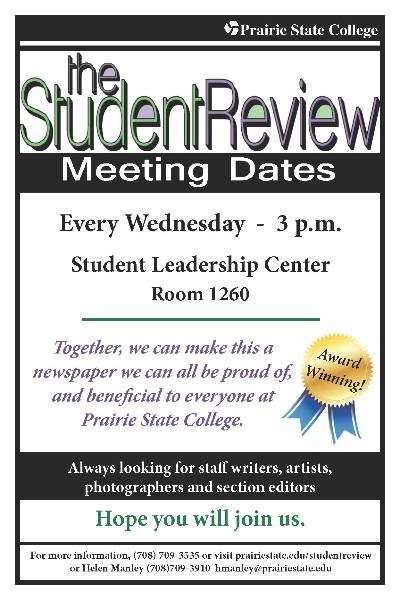 We are always looking for writers, cartoonist, photographers, and editors, so please come on by. For story ideas, or if you have story ideas, feel free to look for them, or place them on the the white boards in The Student Review office, located in the Student Leadership Center, room 1260. Also, you can e-mail our editors or come see them during their office hours.
Mission Statement:
The Student Review is the student newspaper for Prairie State College. We are one of the college's oldest traditions, celebrating over 50 years of publication. During that time, the newspaper has undergone several name changes, but we believe that they are all part of our diverse history and serve as check points, of sorts, in the evolution of the paper. Through all, we will continue to work toward our ultimate goal of journalistic integrity and strength in writing.
The Student Review is a student-run organization, and, as such, serves as the voice for the student population of the college. We are published on a bi-weekly basis. As a joint team we will strive and express accurate information for the student body concerning the college, current events, and students' concerns as well as their interest. All submissions may be made to the Section Editors via email.
Contributions are welcomed, but we do ask that the paper be left as a voice for the Students, and in that sense, that the Review not be solicited in any manner.
The articles and opinions expressed within this publication are solely the opinions of the writers and are not necessarily the views of The Student Review. All work is printed at the discretion of the EIC. All works are the sole property of the writers and are to be respected as such.
---
Advisors:
Newsroom: (708) 709-3535
Contacts:
Editor-in-Chief: jdorsey4101@students.prairiestate.edu
Student Review: pscstudentreview@prairiestate.edu
Newsroom: (708) 709-3535