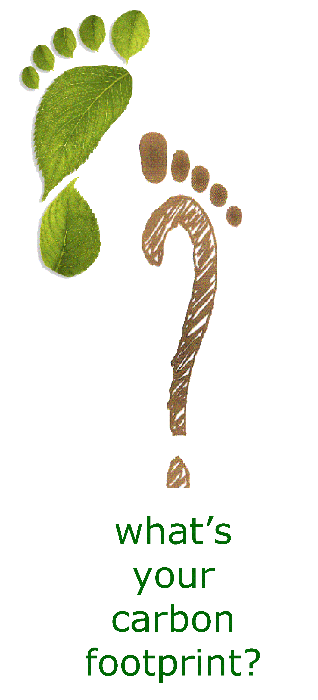 ---
View photos from all of our events on Facebook!
---
April 2017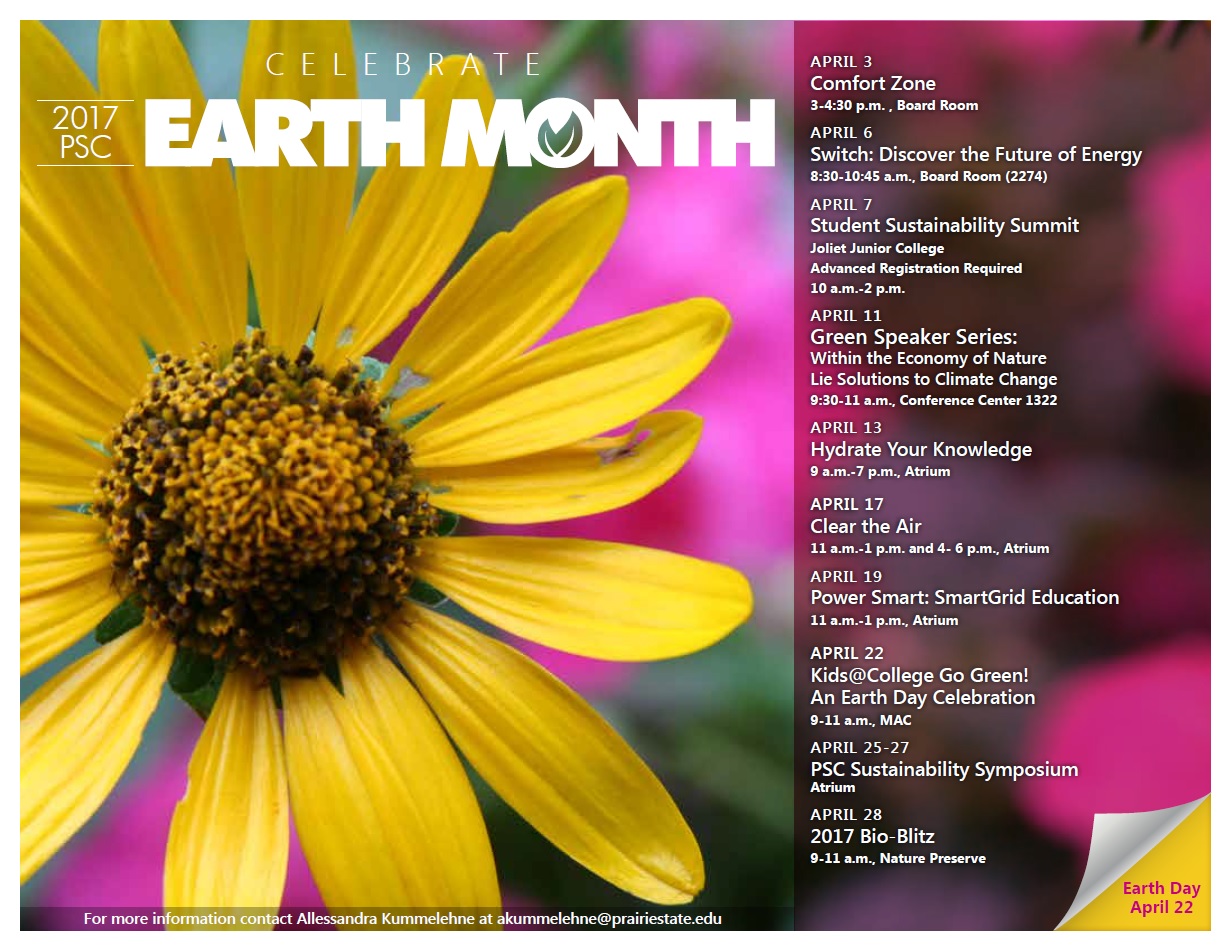 April 3, 2017
3- 4 p.m.
Board Room
Comfort Zone

Join us as we view this non-partisan, scientifically rigorous, and fun to watch film with a unique approach to stimulating dialogue about climate change. It's the story of three ordinary Americans each trying to find their own way to deal with the reality of climate change.
April 6, 2017
8:30 - 11 a.m.
Switch: Discover The Future Of Energy

Join us for a screening of this feature documentary, where Dr. Scott Tinker will explore the world's premier energy sites and interview global energy leaders, to chart a path to our future.
At the conclusion of the documentary, we will have a guided discussion on our energy future.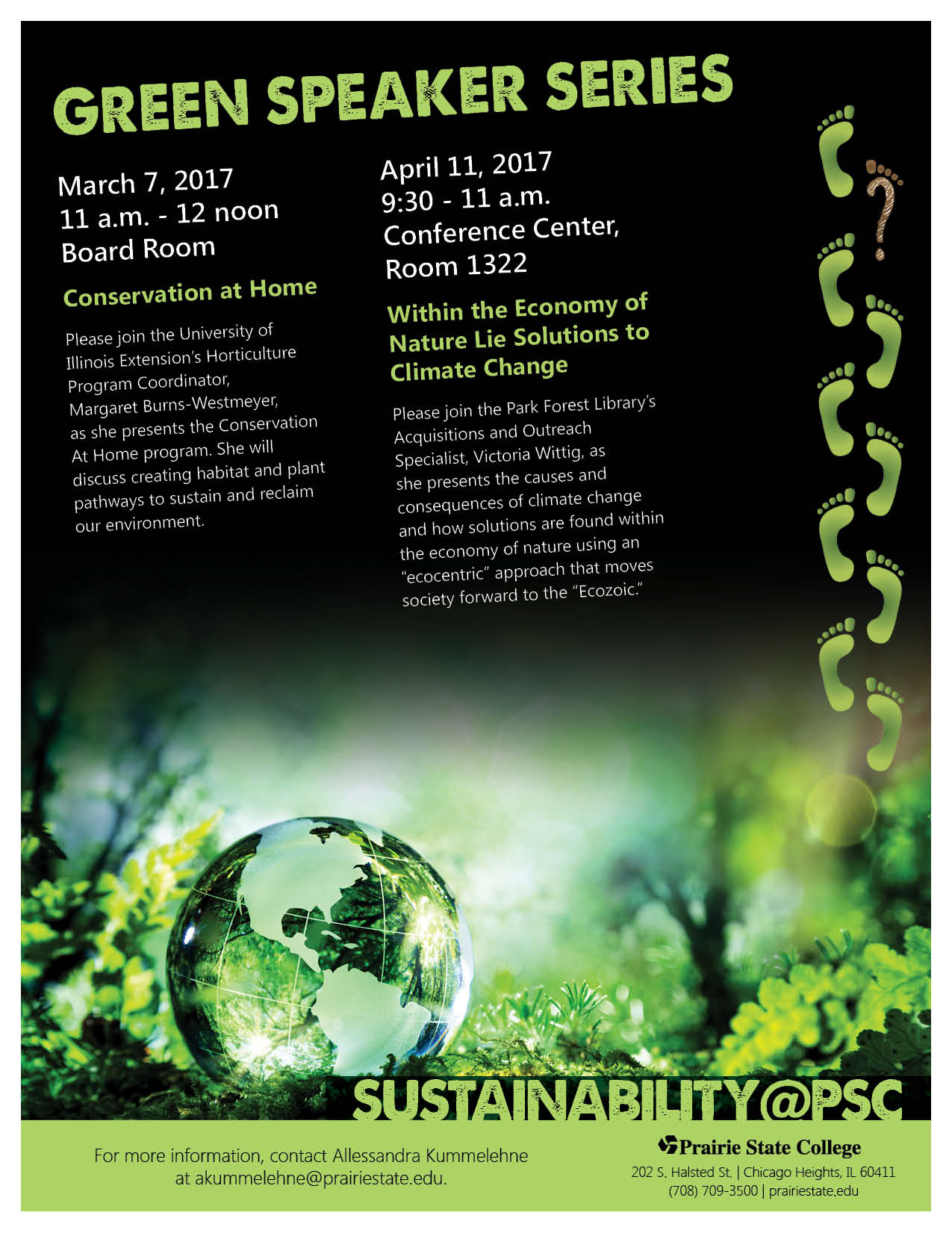 April 11, 2017
9:30 - 11 a.m.
Conference Center, Room 1322
Green Speaker Series: Within the Economy of Nature Lie Solutions to Climate Change
Please join the Park Forest Library's Acquisitions and Outreach Specialist, Victoria Wittig, as she presents the causes and consequences of climate change and how solutions are found within the economy of nature using an "ecocentric" approach that moves society forward to the "Ecozoic."
April 13, 2017
9 a.m. - 7 p.m.
Atrium
Hydrate Your Knowledge

Get up and moving in this eco-walk around campus. Pick-up your questionnaire at the sustainability table in the Atrium and learn about the sustainability initiatives taking place on campus during this walk through the main building. Return your completed questionnaire to be entered into a raffle!
April 17, 2017
11 a.m. - 1 p.m. and 4 - 6 p.m.
Atrium
Clear the Air Event

It is time for our annual Clear The Air event! Stop by the Atrium to learn about PSC's Smoke/Tobacco Free initiative. Learn about PSC's policy regarding tobacco use and play games for prizes. Looking to Quit Cold Turkey? There has never been a better time! Students who quit cold turkey by turning in a full or nearly full pack of cigarettes and make a pledge to Quit Cold Turkey will receive a turkey sandwich and Subway gift card.

Students pledging to abstain from using tobacco will be entered into a raffle for their chance to win four one-hour personal training sessions at the PSC Fitness Center!
April 19, 2017
9 a.m. - 7 p.m.
Atrium
Power Smart: SmartGrid Education
A brand new smart meter is here! Utility companies throughout Illinois have developed new smart grid and smart meter technology to modernize electrical infrastructure to provide consumers with a stronger, reliable grid. Learn how this upgrade in 2017 will help you take control of your energy usage, get you started on making home energy efficiency improvements and save you money!
April 22, 2017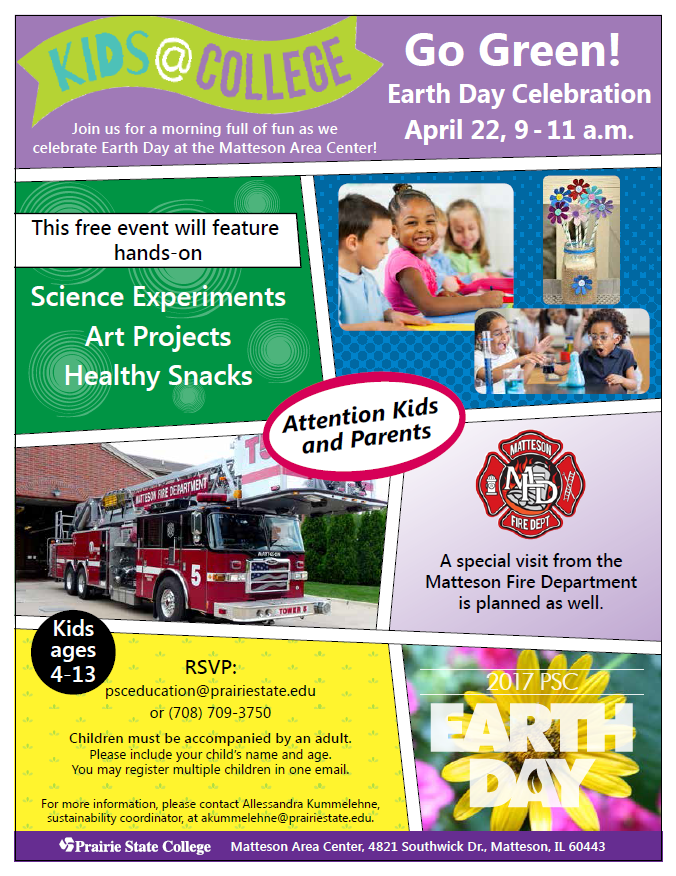 9 - 11 a.m.
Matteson Area Center
Kids @ College Go Green! Earth Day Celebration
Join us for a morning full of fun as we celebrate Earth Day at the MAC!
If you are between the ages of 4-13, join us for this FREE event where you will participate in hands- on activities, science experiments, and take home art projects.
A special visit from the Matteson Fire Department is planned as well.
R.S.V.P. by calling 708-709-3750 or emailing psceducation@prairiestate.edu. Please include your child's name and age. You may register multiple children in one email.
April 25-27, 2017
Student Presentations: Wednesday, 4 - 6 p.m. and Thursday, 8:30 - 10: 45 a.m. and 12:30 - 2:45 p.m.
Atrium
PSC Sustainability Symposium

Student(s) are invited to submit a project or paper that has considered, studied, or focused on climate change, energy and/or the built or natural environment in any capacity. We want to know how these topics affected your project, how they shaped your work, and/ or what you have discovered. Displays may include PowerPoint presentations, speeches, posters, papers and/or newspaper articles.
April 28, 2017
9 - 11 a.m.
Nature Preserve
Bio-Blitz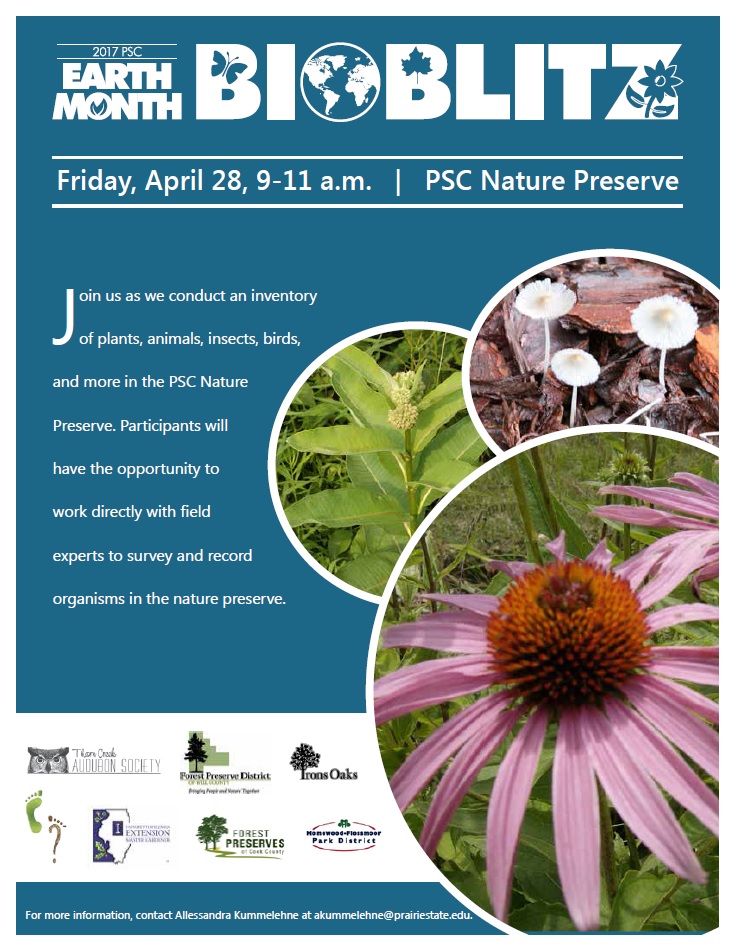 Join us as we conduct an inventory of plants, animals, insects, birds, and more in the PSC Nature Preserve. Participants will have the opportunity to work directly with field experts to survey and record organisms in the nature preserve.
Attention PSC Students!
We are looking for at least 30 students to serve as mentors to the middle school students that will be on campus helping to conduct the BioBlitz. Mentors will be asked to participate in a short training session prior to the BioBlitz and will work directly with middle school students identifying, inventorying and recording organisms on campus April 28.
If you wish to serve as a student mentor during the BioBlitz, please send an email with the subject line "BioBlitz" to elannan@prairiestate.edu.
For more information, contact Allessandra Kummelehne at akummelehne@prairiestate.edu.
---
Past Events