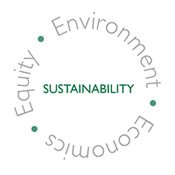 Tip #1
Cardboard is recyclable – simply break down the cardboard and place next to the recycling container located in the hallways.
Have a big clean up job? You can order a large, wheeled recycling bin that will be delivered to your office or classroom. Fill it up and request to have it picked up. To order a large recycling container, complete a work order and send to Physical Plant.
Tip #2
Good (green) news! After years of only being able to recycle plastic items marked 1 or 2, we can now recycle all plastic items 1-7 with the exception of items marked 6. This includes:
water bottles
milk jugs
juice containers
pop bottles
margarine/butter tubs
yogurt cups
ketchup bottles
household cleaners
coffee creamer containers
plastic trays, such as trays from frozen meals also can be recycled as long as they are rinsed clean.
Plastic Containers marked 6 are not accepted:
This includes take-out containers, Styrofoam, packing peanuts, CD/DVD covers, etc. No filmplastic such as plastic bags, saran wrap, etc. No plastic silverware.
Use Green Tips at home! To see which plastics can be recycled at home, check with your local waste disposal provider.
Please contact the Sustainability Center at sustainability@prairiestate.edu if you would like more information on recycling, reducing, or reusing, or if you would like to become more involved with sustainability efforts at Prairie State College.
Tip #3
Skip the Coffee Stirrer!
Each year, Americans throw away 138 billion straws and stirrers. Skipping the stirrer doesn't mean you have to drink your coffee black, however. Simply put your sugar and cream in first, and then pour in the coffee. Your coffee should be well mixed.
Check out more ways to help the planet at www.50waystohelp.com.
Tip #4
Reusing Paper
Information Technology Resources is recommending to save on the life of our printers, do not use paper that has already been printed on one side. If you do not have another use for it, give it to the Student Success Center for use in tutoring.
You can also reuse paper that is blank on one side and does not contain confidential or sensitive information by asking Institutional Support Services to make a scratch pad.
Tip #5
Recycle Glass
Recycled glass reduces related air pollution by 20 percent and related water pollution by 50 percent. If glass isn't recycled, it can take 1 million years to decompose.

At PSC, place empty glass bottles in the recycling bins located throughout campus.

Check out more ways to reduce, reuse, and recycle at www.50waystohelp.com.