Dual Credit High School Program
Dual Credit Information
Are you a high school student interested in getting started with your college education?
Interested in finding out more about different careers and trades?
Want to earn college credit while still attending high school and save money?
Want to earn college credit for free?
Check out the Dual Credit program at Prairie State College (PSC).
The Dual Credit program at PSC allows college ready high school students to take qualified high school courses and earn both high school and college credit – at the same time. The credits you earn are transferrable to PSC as well as other four-year colleges and institutions.
Enjoy the benefit of taking college level courses at your high school campus.
Take Specific high school courses that are designated as dual credit. You take the high school course and earn college credit, too. You never have to come to the PSC campus, the classes are at your high school.
Open to college ready high school students who are currently enrolled in or are interested in taking career or technical education courses.
Apply course credits and grades to both high school and college transcripts.
Take college-level coursework that will accelerate your academic progress.
Participating High Schools
College-qualified teachers are teaching courses at the following high schools participating in the Dual Credit Program with PSC:
Beecher District 206-U
Bloom Township District 200-U
Crete-Monee District 201-U
Homewood Flossmoor High School District 233
Rich Township High School District 227
Kankakee Area Career Center
The courses eligible for dual credit vary by high school. Check with your high school counselor for specific course listings for your high school.
What are the Benefits of Dual Credit?
The dual credit courses can reduce your overall college tuition bill!
Earning college credits while in high school can speed up the time it takes you to obtain an associate in science degree.
If you decide to enroll at PSC after high school you will enjoy the ability to register for courses online since you are already considered a PSC student.
Helps your transition to college. You will already have taken college-level course work.
As a dual credit student you are also a PSC student and entitled to a PSC student ID.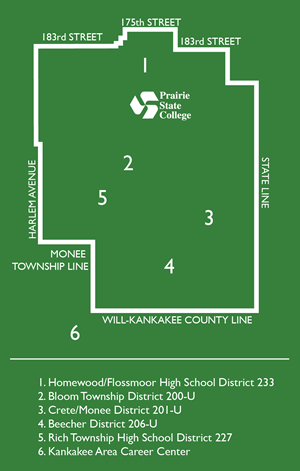 Dual Credit Course Offerings
Current dual credit course offerings fall under the following areas (specific courses vary by high school and are subject to change after annual review process):
Business
Early Childhood Education
Automotive Technology
Welding
Millwright
Website Development
Computer Aided Design
Computer Repair
Computer Networking
Medical Terminology
Photography
Health Careers
Frequently Asked Questions about PSC's Dual Credit Program:
Q. Do students participating in the Dual Credit program have to attend PSC?

A. No. Dual credit signifies the student has earned college credit at PSC and has an official college transcript reflecting that credit.

Q. Will dual credits apply to a PSC associate degree or certificate?

A. Yes. Dual credit puts a student on track to complete the necessary courses for an associate degree in a career program or certificate at PSC.

Q.Is dual credit the same thing as Advanced Placement (AP) Courses?

A. No, it is a separate program that allows students to take courses offered by PSC at their high school from college-qualified teachers. Students can earn college credit immediately upon successful completion of the dual credit course. AP courses require a national exam and a certain score to receive college credit. Dual Credit does not.

Q. What if the course has a prerequisite?

A. All prerequisites must be met before the student can take the dual credit class.

Q. If I decide to attend PSC after high school graduation, do I have to take the placement test again and re -apply?

A. No, you do not have to apply for admission, you do not have to request a transcript, and you do not have to re-take the placement test unless you want to try for a higher score.

Q. Will my college credits still count even if I don't attend PSC?

A. Yes, you will still have earned the college credit. You will need to request an official PSC transcript be sent to your new school.
How to Get Started:
Speak with your high school counselor about dual credit student eligibility and course offerings.
What is the cost?
It's free for high school students!
How to Get College Credit
Once the Dual Credit course has been successfully completed with a grade of C or better, PSC credit will be awarded.
For more information regarding PSC's dual credit program, contact Janice Kaushal, Dean, Career and Technical Education, at (708) 709-3595 or by email at jkaushal@prairiestate.edu.
Graphic Communication Portfolio Evaluation
If you are an aspiring graphic communications student interested in pursuing a degree at an Illinois art institution, bring your portfolio to Prairie State College. By paying a $25 proficiency credit fee you can display your portfolio to PSC faculty. They evaluate it assign three college credit hours to portfolios that meet acceptable requirements for college credit. The portfolio must be for some type of graphic communication emphasis such as animation, multimedia arts, digital media, graphic design and web design.
Get college credit for work you have already done!