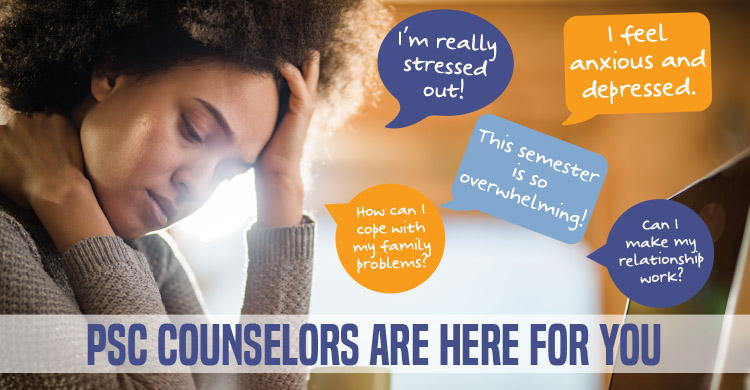 IF YOU ARE IN IMMEDIATE DANGER, ALWAYS CALL 911 FIRST.
Prairie State College Personal Counseling mission is to prepare students for learning and personal success throughout life. We educate and facilitate the growth of the whole person for living, learning, and coping in an unpredictable and diverse world. We work in conjunction with our colleagues across campus toward the promotion of a healthy campus environment for all those who learn and work at PSC by providing professional outreach and educational services and by fostering collaborative relationships across the campus.
The Personal Counseling Department seeks to create and sustain a campus environment that supports the holistic development of each student and contributes to their optimal academic success by:
Facilitating and supporting identity development
Community responsibility
Health and wellness
Multicultural awareness
Social justice
Mental health development
Personal Counseling
Students will be provided assistance with feelings of anxiety, depression, inadequacy, loneliness, or any personal concern students may be struggling with. The Personal Counselor will offer short term counseling and will provide community resources if long term counseling is the better solution for the student.
Academic Goal Setting
Individualized Time Management Plans
Individualized Study Techniques
GPA Recovery Strategies
Utilizing Learning Styles
Academic Success Plan
For more information and/or to schedule an appointment, please contact Personal Counselor Shannon Word at (708) 709-3511 or email at
sword@prairiestate.edu
. The location for personal counseling services is on the second floor, office 2262.
I was referred to see a counselor in the community instead of at PSC. What's up with that?
During the initial assessment, our counselors gather a lot of information about what you're dealing with now and what you've dealt with in the past. They evaluate whether brief therapy can address your treatment needs, or whether longer-term care in the community represents the best option for you. Our goal is to get you to the care you need as quickly and smoothly as possible. There are many factors that go into a mental health professional's decision to recommend care in the community. As commonplace examples, active eating disorders, severe and/or chronic depression or anxiety, addiction and other conditions are often best treated in a setting not constrained by session limits. Even if you are referred to treatment in the community, your counselor may remind you that and workshops remain available to you without limitations on sessions.