Learning Achievement Center (LAC)
The Learning Achievement Center includes an 18-seat computer lab and quiet study area, and is where students access additional resources such as textbook, laptop and calculator loans. The Center also functions as the central location for Male Success Initiative (MSI) activities.
The LAC lab and study area are open to all PSC students with a valid student ID.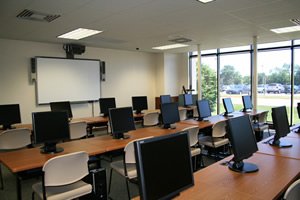 ---
Frequently Asked Questions
Who can use the LAC?

All students who present a valid PSC ID can use the LAC lab and study tables. However, priority will be given to African American male students. The LAC will be closed to general student use during MSI meetings and activities. Students who do not follow the posted rules regarding use of the lab and Center will forfeit the opportunity to use the LAC.



Who can take advantage of the laptop loan and calculator loan programs?

Students may borrow laptops and calculators as available with the prior approval of the Coordinator of the Male Success Initiative. A loan agreement must be signed, and students assume full financial responsibility for these resources.



Who can take advantage of the textbook loan program?

The textbook loan program is available to male students of color in the MSI initiative who qualify. Interested students should contact the Coordinator of the Male Success Initiative. Other students in need of financial assistance should see the Financial Aid or Foundation offices.



Who can reserve the conference room?

The conference room may be reserved by students for group study on an hourly basis as available. Contact Linda Elliott, Administrative Assistant, TRiO Programs, at (708) 709-7945 or 7782.



Who can use the Smartboard?

The Smartboard may be used by PSC faculty and staff to provide instruction to students.