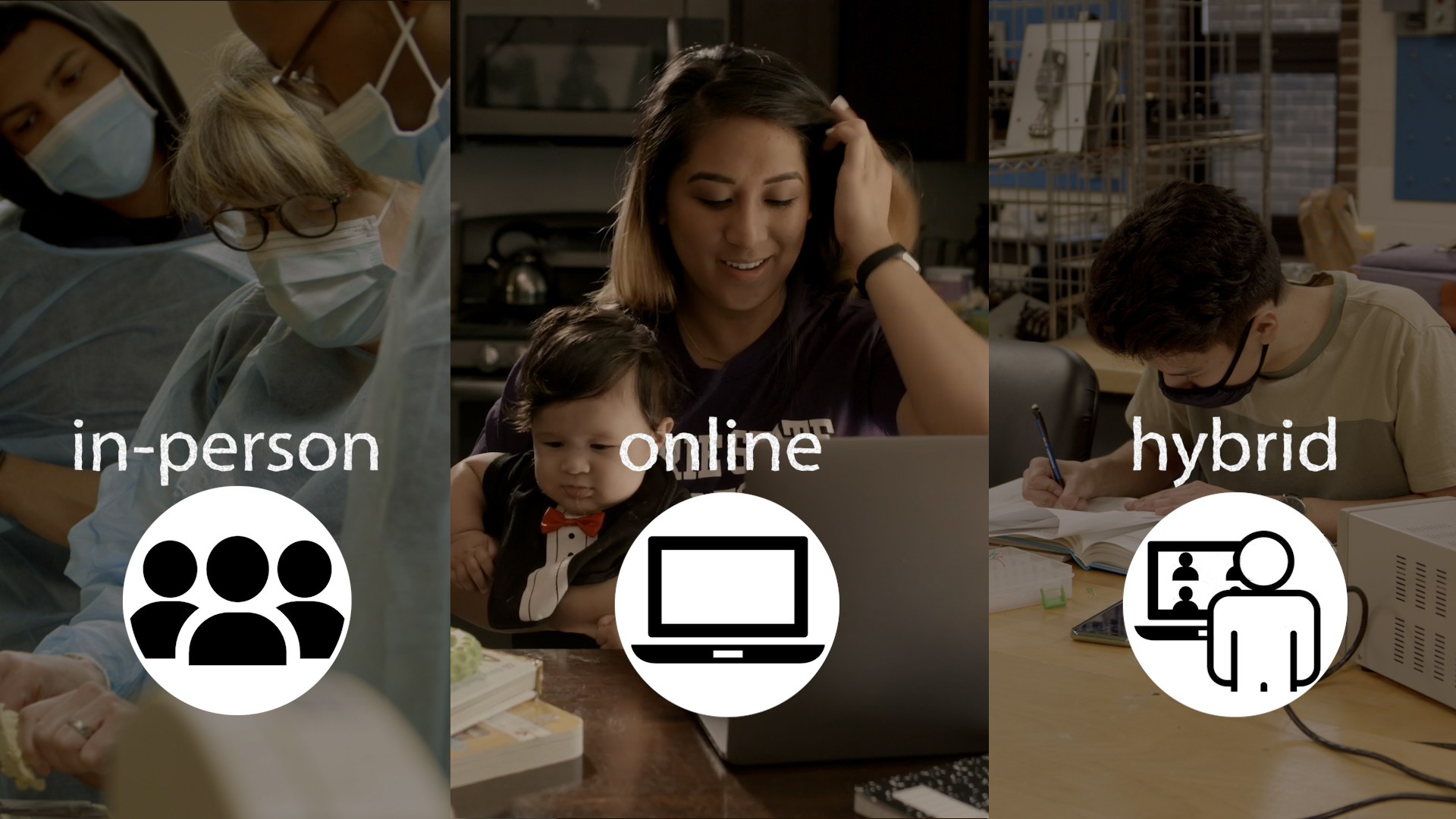 Welcome
We're excited to welcome our students back to campus this fall! The faculty and staff are looking forward to a great semester at Prairie State College, and hope you are ready for an excellent learning experience. Our campus is open for in-person services, including advising, enrollment services, financial aid, business office, the library, and other departments to offer personalized, face-to-face assistance. Walk-ins are encourged!
Please explore this page by clicking on the tabs above for answers to your questions, resources, and ways to navigate PSC this fall.
To start your academic journey at PSC, click below.
Log into Desire to Learn (D2L)
---
Desire2Learn, D2L, is Prairie State College's learning management system. D2L allows faculty to share resources, collect assignments and provide feedback to students. Watch the following tutorial, D2L Overview, to learn about how to navigate D2L, get 24/7/365 help, get the tools to access documents and information, submit assignments, participate in discussions, take quizzes and check your progress.
Navigating WebAdvisor
---
Visit prairiestate.edu, and click on the WebAdvisor logo.
View class schedule
Search schedule online
Receive grades
View real-time seat count
View financial aid award
Register for courses
Check account balance
Print unofficial transcripts
How Online Courses are Formatted
---
Courses listed in WebAdvisor are marked to identify how the class will be delivered.
IN:

Online courses with no designated meeting time

| (Example: ENG 101 IND1)
Students learn independently through readings, videos, exams, written work, and online exercises. Although there are no meeting times, and students can access lectures and lessons at their convenience, these classes are not entirely self-paced—students will be required to complete assignments and sit for exams according to given deadlines. Faculty may choose to offer optional supplemental opportunities to support the classroom activities.
MP:

Online with a designated meeting pattern

| (Example: CHEM 110 MPF1)
Although entirely online, students attend these classes as they would a traditional course. Connected by webcam and microphone, students and their professors will engage in lectures and class discussions. As with other online classes, coursework will not be self-paced, and deadlines for assignments and exams will apply.
HYB or HY:

A blend of online learning and face-to-face sessions

| (Example: NURS 100 HYBF1)
Hybrid courses have learning activities that must be completed online as well as class sessions that require on-campus or other in-person attendance, such as labs, clinicals, presentations, or other activities. If a student is registered for a hybrid class, the in-person class session offered will be on campus or at other locations depending upon the needs of the program. These in- person meetings will only occur during the scheduled in-person class time.
Face-to-Face:
Face-to-face courses are listed with designated meeting time, days, and an assigned room. (Example: ECON 201-01, MW 9:30-10:45, Room 3140.)
If you are still unsure how your classes are formatted, please reach out to an advisor for help at
advising@prairiestate.edu
.
Technology Loaner Program
---
Technology equipment is available to students who need it. Our Technology Loaner Program allows you to borrow calculators, laptops, and web cameras for the fall semester. You must be enrolled for the current semester. Complete a form at prairiestate.edu/technologylendingprogram.aspx.
FREE Book Voucher for Students
---
PSC students who register for fall classes have the opportunity to receive a free voucher for up to $200 towards your textbooks this fall. Vouchers are limited, so register early!
Here's how to retrieve your voucher:
Register for fall classes.
Take your schedule to the Business Office on the main campus and ask about our book vouchers.
Take the voucher to the Barnes and Noble College Bookstore on the main campus and use it towards your textbooks.
Vouchers are valued at up to $200 and can only be used towards textbooks. Books must be purchased inside the bookstore: no online orders and no cash value.
Get Technology Support (Help Desk)
---
The Help Desk provides PSC students with a single point of contact for PSC computer related problems or questions with PSC equipment or software. The ITR Help Desk is also your point of contact for all password or login issues. If you need assistance, contact helpdesk@prairiestate.edu
PSC Foundation Scholarships
---
The PSC Foundation awards need-based scholarships to students to help bridge the gap between what students receive from financial aid and what they can actually afford. The fall scholarship application is now open. Learn more or apply for a scholarship online now.
The BookSHARE Program
---
If you need assistance with getting your textbooks, the Prairie State College Foundation may be able to help. Through the BookSHARE Program, eligible students can borrow textbooks from the Foundation for the semester. For more information, contact Susan Sebastian, Coordinator of Scholarships and Alumni Relations, at ssebastian@prairiestate.edu or call (708) 709-7879.
Use Your Student Email
---
Your Prairie State College email is the official and primary method of communication between you and the College. Be sure to check it daily for important messages regarding your registration, payment deadlines, account/financial aid information, and College updates/events. We also encourage you to forward your PSC email to your personal account. (If you cannot access your PSC email account, contact the Help Desk at helpdesk@prairiestate.edu.)
New Student Orientation
---
Eliminate the "I didn't know" factor by exploring and discovering valuable information about PSC, including what you need to do to succeed and the resources that you can use. The First-Year Online Student Orientation is open to all students, but first-time college students under the age of 24 are required to attend. Vist the First Year Experience page to learn more.
Take Advantage of Student Planning
---
Stay on track! Our NEW platform of web based self-service tools provides you with the ability to plan out your academic roadmap and register for classes with student planning.
Provides insightful advising that helps students make better decisions and graduate faster.
Gives clear "on-track" and "on-time" indicators to help students stay on their academic path.
Plan out and register for courses
Communicate directly with your advisor one on one and get direct, clear academic advising
Updated course search that gives full course description, course information and offerings