The Veteran Center is located in room 1240 of the main building. The center is accessible and offers many amenities for veterans including free printing.
For more information, call Georges Sanon at (708) 709-3567 or email
vetcenter@prairiestate.edu
gsanon@prairiestate.edu
Higher Education Veterans Service Act Survey (Public Act 96-0133)

Veterans receive one-on-one advising throughout the admissions process and continued support throughout their academic career at PSC. Veterans are eligible for early registration. Services extend to all service members regardless of when they served or whether it was in the active, reserve, or National Guard component.
The Student Veterans Center provides academic and social support to veterans with an emphasis on graduation and successful integration into the college. At the center, PSC student veterans can study and socialize with fellow veterans and find information about the services available to them at PSC and in the community.
PSC Student Veterans Club goal is to provide a smooth transition for our returning military personnel from their current duty. Also, to help out our veterans with key elements they need in setting them up for success. Finally, to incorporate unity, respect, and togetherness between Prairie State College, its students and those who have volunteered their service. Click here to learn more.
Veterans Benefit Programs The federal and state governments have several programs available to assist veterans, spouses, and their dependents in paying for college and reaching their educational and vocational goals. Programs include:
- Illinois Veterans Grant (IVG)
- Illinois National Guard Grant (ING)
- Illinois MIA/POW Scholarship (for spouses and dependents)
- Montgomery GI BILL Educational Benefits (Chapter 30, Post 9/11, Chapter 1606 and 1607)
- Department of Veteran's Affairs Vocational Rehabilitation (Chapter 31)
- Department of Veteran's Affairs Dependents Educational Assistance Program (Chapter 35, Fry Scholarship, and ToE)
Veterans who are not sure what benefits they qualify for should contact the Student Veterans Center coordinator, or consult the U.S. Department of Veterans Affairs website at gibill.va.gov/. Educational Counselors also are available at the Department of Veterans Affairs at (888) 442-4551 or call an ISAC Call Center Representative at (800) 899-ISAC(4722)
Financial Aid Benefits and Intake Forms

How to Apply for Benefits
Register and pay for your classes. The VA will reimburse you based on your eligibility. Chapter 33 veterans can submit their letter of eligibility to the Student Veterans Center in lieu of a payment.
Provide the Student Veterans Center with a completed Intake Form each semester.
- Veterans benefits checklist (PDF)
- Complete and return the appropriate application to the Financial Aid Office.
- Attach a copy of your DD-214 to the application.
Financial Aid Benefits Available
PSC extends in-district tuition rates to all eligible veterans in appreciation of your service to this country. Proof of service is required at time of application. Please submit a copy of your DD-214, Member-4 (Certificate of Release or Discharge from Active Duty) to the Student Veterans Center Coordinator for consideration.

General Eligibility Requirements
Veterans may still be available for state assistance even if their Montgomery G.I. Bill has expired. Veterans who wish to enroll should contact the Veterans Services before registering so that applications for veterans' benefits can be processed in a timely manner. Records of military service, other college academic transcripts, service schools attended, and GED® scores, if pertinent, should be submitted so they may be evaluated. Call (708) 709-3567 or visit the Veterans Center, room 1240, for information on veterans services.

- Served at least one year active duty in the armed forces
- Discharge rating of "honorable," "under honorable conditions," "general" or "service-connected medical."
- Entered service from Illinois and returned to Illinois after being discharged. (IVG, ING, MIA only)
Assistance to Spouses and Dependents of Veterans
Veterans Services provides education and training opportunities to eligible spouses and dependents of veterans who are permanently and totally disabled due to a service-related condition, or who died while on active duty or as a result of a service related condition.

- Illinois MIA/POW Scholarship (Veteran must have entered service from Illinois and returned to Illinois after being discharged)
- Federal Education Benefits for Dependents of Veterans (Chapter 35)
- The Marine Gunnery Sergeant John David Fry Scholarship (Fry Scholarship)
- Transfer Post 9/11 to Spouse and Dependents (ToE)
Additional Resources
Frequently Asked Questions
Q: Will I receive college credit for my military transcripts?
A: Prairie State College offers credit for military occupations and training courses if they are recommended for credit by the American Council on Education (ACE) and if Prairie State College has similar courses. Students should request an official copy of their military transcript to be sent to Prairie State College. Official transcripts must come directly from the military or arrive stamped and sealed.
Order transcripts below:
- Community College of the Air Force (CCAF) – Air Force
- Joint Services Transcript (JST) – Army, Coast Guard, Marine Corps and Navy
Q: What type of benefits can be used at Prairie State College?
A: Federal Benefits
- Chapter 30 – Prior Active Duty G.I. Bill
- Chapter 31 – Vocational Rehabilitation
- Chapter 33 – Post 9/11 G.I. Bill/Transfer of Entitlement/The Fry Scholarship
- Chapter 35 – Survivor & Dependents
- Chapter 1606 – Reserve/National Guard G.I. Bill
- Go Army Ed – Active Army Tuition Assistance
- AFTA – Active Air Force Tuition Assistance
- MyCAA – Military Spouse Career Advancement Accounts
State Benefits
- Illinois Veterans Grant
- National Guard Grant
- MIA/POW
Q: Do I need to reapply for my military educational benefits every semester?
A: After your initial registration for educational benefits has been completed, you will only need to resubmit an PSC Student Veterans Center Intake Form each semester. However, Chapter 33 (Post 9/11 G.I. Bill) and Ch. 35 (Survivor & Dependent) will also need to submit, each semester, and updated Certificate of Eligibility (COE) or a screenshot of the Vets.gov webpage that shows remaining entitlements.
Q: Why is the PSC Student Veterans Center Intake Form so important?
A: The form identifies you as a student intending to utilize veteran benefits and allows coordination with the Business Office on your student account.
Q: Does Prairie State College have a Veterans student group?
A: Yes, there is an active Veteran student group on campus. For more information about the group, check out this page.
Q: Will I get confirmation that Prairie State College has submitted my certification to the VA for the current term?
A: Yes. The VA will send an automated notification to your Prairie State College email. This email is confirmation of what Prairie State submitted to the VA. If it doesn't accurately reflect your current enrollment status, please contact the Coordinator, Student Veterans Center or call 708-709-3567 immediately.
Q: When do I start to receive my VA educational benefits?
A: The VA will process your benefits as quickly as possible, but this can take several weeks from the first time you apply. Once you are in the VA system, though – and if you submit your PSC Student Veteran Center Intake Form before the start of each semester – your benefits should be provided to you continuously (with any monthly stipends paid at the end of each month during a semester).
Q: I qualify for Chapter 33 benefits. When can I expect to receive my textbook stipend and housing allowance?
A: The textbook stipend is paid as soon as your claim is processed so you should not wait for the stipend to arrive before ordering your textbooks. The Basic Allowance for Housing (BAH), meanwhile, and other monthly stipends are paid at the end of each month during a semester. Keep in mind that partial months are paid at a prorated rate. For example, if a fall semester begins on August 20, your BAH payment will only be for the ten (10) days between August 20 and August 30 (provided your BAH certification was submitted in advance of August 20).

Q: When will I get the refund of my Financial Aid?
A: Students are strongly encouraged to complete the Free Application for Federal Student Aid (FAFSA) to determine what they are eligible for. Students utilizing both Financial Aid and VA benefits to pay for school will be refunded any money that is above and beyond the total amount due on their student account. A student will receive this refund once both Financial Aid and VA benefits have been added to their student account.
Q: What is the process of veterans applying for admission to Prairie State College?
A: The admission process is the same for veterans as it is for every other student and it is best to review the admission requirements before applying.
Q: I was using my military benefits at a previous school. How do I transfer them to Prairie State College?
A: Those using VA benefits, complete VA Form 22-1995 (Request for Change of Program or Place of Training) or VA Form 22-5495 (Dependent Request for Change of Program or Place for Training) on Vets.gov.
Those using the National Guard Grant, go to ISAC.org to change your application data.
Q. Can I repeat a course with it covered by the VA?
A: Courses that a student successfully passes are typically not eligible to be covered by the VA again. Under certain circumstances a repeated course may be certified to the VA and is done on a case-by-case basis.

Q: How many credit hours do I need to take to be classified as a fulltime student?
A: The credit hour requirements are below. Know how they affect your stipends
Fall and Spring
- Full-time – twelve or more credit hours
- Three-quarter time – nine to eleven credit hours
- Half-time – six to eight credit hours
- Less than half-time – one to five credit hours
Summer
- Full-time – six or more credit hours
- Three-quarter time – five credit hours
- Half-time – three or four credit hours
- Less than half-time – one or two credit hours
Q: Does not being classified as a fulltime student affect other VA educational benefits?
A: If you are a recipient of Chapter 33 (Post 9/11 G.I. Bill) educational benefits, you must register for course credits that constitute at least 51% of fulltime status (this is a minimum of 6.12 credit hours) to receive the Basic Allowance for Housing (BAH). PSC Student Veterans Center can assist on interpreting credit-hour totals that are based on multiple or overlapping sessions to ensure they meet Chapter 33 BAH requirements. Also, to avoid a drastic reduction in BAH, at least one credit hour each semester must physically take place on campus.
Q: What happens if I drop or add a course?
A: Before making any adjustments to your course schedule consult with the Coordinator, Student Veterans Center. This ensures that you understand possible ramifications of this change and allows Prairie State College to make any necessary adjustments to your VA certification, or other benefits that may be impacted. Dropping a course could result in a debt with both the college and the VA. This is especially important for students who are dropping below full-time status.
If a withdrawal occurs during the drop/add period, Prairie State College will have set the money aside to return to the VA. However, the VA will send the student the debt letter. The student needs to send a copy of that letter to Coordinator, Student Veterans Center. Since the letter is made out to the student, we will refund the student the money to return to the VA.
If you drop a class or withdraw from all classes after the deadline date, the VA will require repayment of any money you received for attendance in that class unless you have mitigating circumstances. If you feel you have a valid reason for dropping the class or withdrawing from class, you can write to the VA and ask that you be allowed to maintain your prevailing ratel of pay, up to the last date of attendance in the course(s).

Q: What types of "mitigating circumstances" are acceptable to the VA for dropping a class or withdrawing from PSC?
A: Mitigating circumstances include (1) personal illness or injury, (2) the death, illness or serious injury of a family member, (3) relocation due to employment, (4) work-schedule conflict, or (5) hardships. If you claim a mitigating circumstance for dropping a class or withdrawing form PSC, the VA will require in-depth statements and supporting documents before approving payment. If you have other reasons for dropping or withdrawing, you may also provide those in writing to the VA.
Q: Do I have to maintain a certain GPA to keep my military educational benefits?
A: All students utilizing military educational benefits must maintain certain standards of progress with a GPA above 2.0. Students who are placed on academic probation are provided with military educational benefits for up to two consecutive semesters. However, if the student's cumulative grade point average does not meet PSC published standards of progress after the second consecutive semester of academic probation, military educational benefits will be terminated. Students who are reinstated to PSC after dismissal for unsatisfactory progress and plan to use military educational benefits must meet with Coordinator, Student Veterans Center after their reinstatement.
Q: Can I transfer benefits to my dependents?
A: If you were a member of the Armed Forces on August 1, 2009, and eligible for the Post-9/11 G.I. Bill, the Department of Defense may offer you the opportunity to transfer benefits to your spouse or dependent children. Commissioned offices of the Public Health Service and the National Oceanic and Atmospheric Administration are eligible for the transferability option effective August 1, 2011.
While in the Armed Forces, servicemembers can transfer their Post-9/11 educational benefits to any dependent listed in DEERS. One the transfer has been initiated, the service member incurs a 4-year service commitment that runs concurrently with their current commitment/contract. Because of this requirement servicemembers who have left the service cannot transfer their educational benefits to their dependents. After leaving the Armed Forces, servicemembers can modify the number of months transferred, provide a future effective date for use of Transfer of Education, or revoke entitlement transferred by submitting a written request to VA. For more information on transferring Post-9/11 G.I. Bill, please refer to this VA Fact Sheet.
Q: What if I am called to active duty?
A: Prairie State College recognizes and appreciates the important contributions made by active duty, Reserve, and National Guard members. In order to accommodate these students and their dependents, the Student Veteran Center provides a check list of steps to take. Here are some guidelines if you are considering/taking classes:
1. For any training/drill or deployment: Students will attempt to make arrangements with instructors to maintain and/or make up classwork as needed and to assign grades as appropriate (including incompletes, to be made up later). Registration for those courses, in which instructors accommodate the absence will remain intact and tuition and mandatory fees will be assessed in full for those courses. Service members should provide instructors with maximum advance notice of absences, providing copies of training/drill, and/or deployment directives from the Reserves or National Guard.
2. Instructors must accommodate absences of up to two weeks in duration (or equivalent in Summer) in accordance with paragraph one.
3. When unable to make satisfactory arrangements with all instructors: Courses will be dropped and the tuition and mandatory fees for those courses will be rescinded.
4. When unable to make arrangements with any instructors for unexpected orders requiring longer than two-week absence: The student's entire registration for that semester will be withdrawn or cancelled and d100% of the tuition and mandatory fees will be rescinded.
Q: Where is the Student Veterans Center located on campus?
A: The Student Veteran Center is located on the first floor of the Main building in room 1420, next to the Information Desk in the Atrium.
Guidelines for Activated Military members
Veterans Crisis Line
Confidential chat at VeteransCrisisLine.net
or text to 838255
---
---
---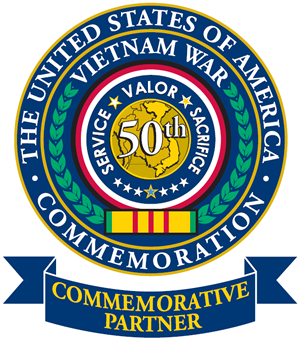 Prairie State College is a proud Commemorative Partner of the Vietnam War Commemoration, to learn more about the Commemoration, please visit www.vietnamwar50th.com.