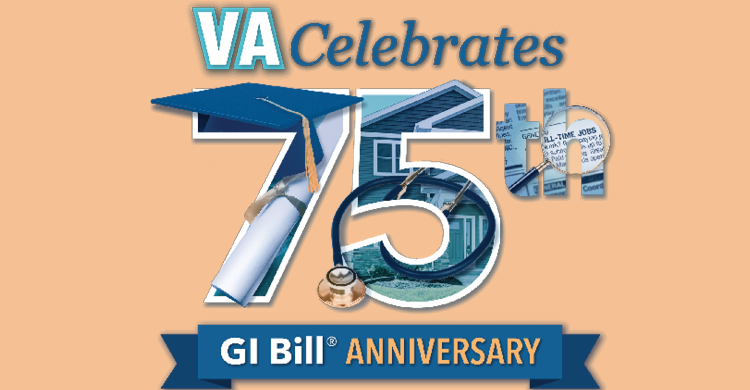 Podcasts
Veterans News

From Boots to Books: Helping Our Veterans
Prairie State College Starts Chapter of SALUTE Veterans National Honor Society
Prairie State College to Receive Grant from Wounded Warrior Project
Wounded Warrior Project Website
VA Launches Personalized Health Benefits Handbook
VA Providing Credit Monitoring to Misidentified Veterans
Chicagoland Regional College Program
Back To Events Page
Podcasts of Past Events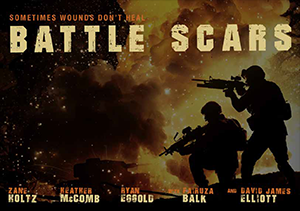 Battle Scars
Movie Discussion Forum moderated by Chicago Heights Veterans Center Psychologist Dr. Richard Doss
October 27, 2017 | 6 p.m.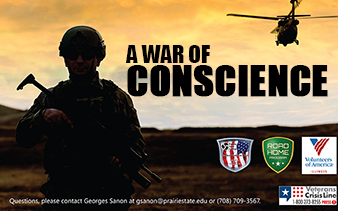 War of Conscience
A panel discussion about the challenges and critical issues facing many returning U.S. military service members and veterans.
February 21, 2018 | 12 p.m.
Back To Events Page
Employment/Entrepreneur/Volunteer Resources
Department of Labor, Veterans Employment & Training Service
CRCP
National Able Network
Comcast
5th/3rd Bank
Central Management System State of Illinois (CMS)
Illinois Department of Employment Security
UPS
National Able Network – Veterans Forward
Journey Care Foundation
Habitat for Humanity
Cook County Forest Preserve
Chicago Lighthouse
Women's Business Development Center (WBDC)
Operation: Job Ready Vets
The Inner Voice, Inc.
YSVP of YMCA – Urban Warriors Program
Big Brothers Big Sisters of Metropolitan Chicago
Illinois State Police Recruitment
Veteran Business Outreach Center (VBOC)
Old Second National Bank
NICOR
Workshops
VetMentors, LLC. – Focus is on housing: from homeless to homeownership
Service Resources
Bloom Township
Cook County Department of Veterans Affairs
Cook County Assessors' Office
Cook County Recorder of Deeds
Illinois Dept of Vet Affairs Veterans Service Officer
Illinois State Treasurer
Office of State Appellate Defender
Illinois Armed Forces Legal Aid Network
Illinois Office of Comptroller
Hines VA Homeless Outreach Team
Hines VA Transition & Care Case Management Program
Hines VA Medical/Eligibility Team
Cook County Health Department
The South Suburban Council
Respond Now
American Legion 3rd District
VFW Post 311
Catholic Charities
House Our Heroes
Chicago Heights Veteran Center
VFW Regional Office
Prince Home in Manteno
Road Home Program: The Center 4 Vets & Families @ Rush
Odyssey Golf Foundation
Jencare Senior Medical Center
Habitat for Humanity
ComEd Energy Efficiency Program
Prairie State College Dental Clinic
Vet Mentors, LLC
Nicor Gas
Back To Events Page
Prairie State College Student Veterans Center Events Sponsors:

Download PDF
PSC Veterans Townhall

PSC welcomes Southland Veterans and their families, to join us for this interactive town hall meeting where you will have the opportunity to hear from leaders in the federal and state veterans services community. Topics will include the VA's new MISSION ACT. There will be opportunities to ask questions and share your concerns.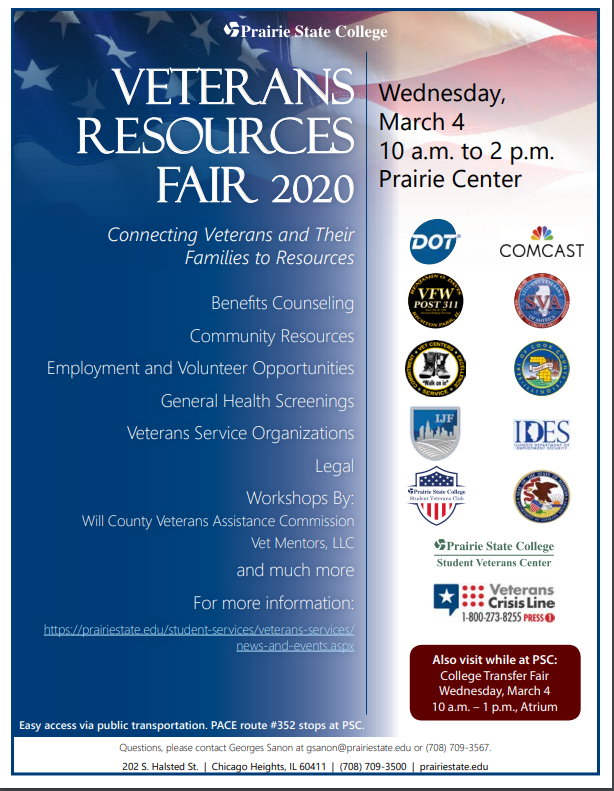 Download PDF
PSC Veteran Resources Fair 2020

Prairie State College's Veterans Resource Fair 2020 will take place on Wednesday, March 4, 2020. This Resource Fair for veterans, service members and their families will feature the Department of Veterans Affairs, housing, legal and educational information, employment and volunteer opportunities, and more. List of Vendors For Events